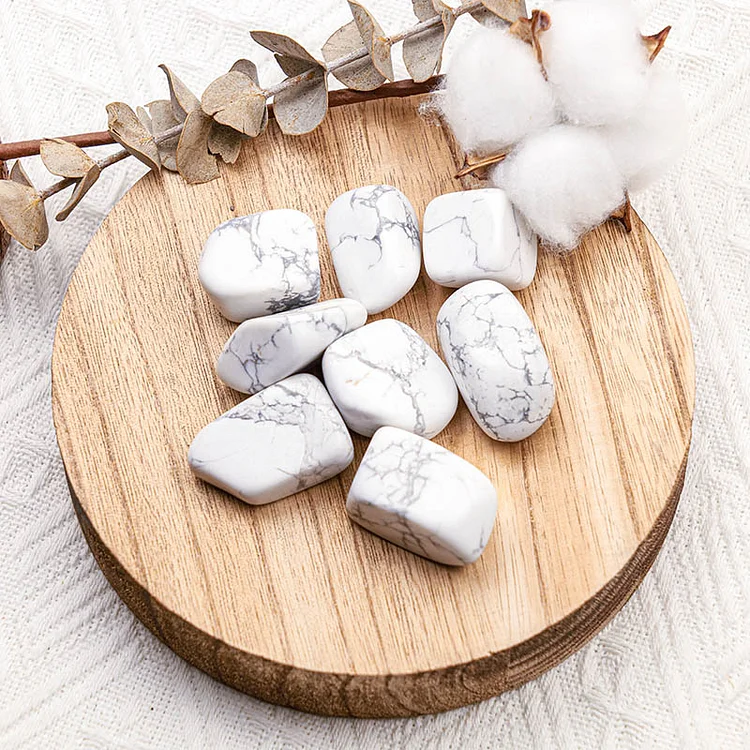 MADE OF REAL NATURAL CRYSTAL
🤍White Turquoise
White turquoise is an excellent balancing stone for the chakras. The color alone is not specific to any one chakra. Rather, it covers all of them – white, containing all colors in it. In metaphysics, rocks with this color are considered to be the most powerful for healing and self-transformation.
HEALING PROPERTIES AND BENEFITS
White turquoise is a calming stone. It helps relax the mind and body, our thoughts and emotions. It alleviates many of the things that cause us anxiety to begin with, such as critical thoughts about yourself and others, selfishness, stress, and more.
White turquoise is used to open us up to the spiritual realms. It expands your consciousness, puts you into alignment with it all – with the divine. It is an excellent stone to aid you in your meditation practice, giving you easy access to heightened states of awareness.
If you're finding it difficult to let go of something, or unaware that you're even holding on, a white turquoise stone can help you release what's been weighing you down – whether it's a person, material object, trauma, or emotional pain.
It is an expressive stone. It can help you remove any communication blockages you're experiencing. With white turquoise, you will open you up to speak your truth and communicate much smoother with your friends, family, lovers, and co-workers.
Since it is a calming stone, it has positive effects on people who are dealing with anger. If you have a short-fuse and are quick to madden, don't get down on yourself. A white turquoise is the calming healing stone that you need to achieve your zen.
HOW TO USE TUMBLED STONE
Mindfulness, Meditation, and Spiritual Healing: Tumbled stones are soothing and peaceful gems, known to calm stressful environments. They aid in decision-making and help offer clarity. When it comes to the body, they assist with support during healing of physical ailments such as chronic and long-term illness, as well as with pain relief.
Balancing Chakras: Choose the type of rolling stone based on the chakra concerned. Place them on parts of your body that often make you uncomfortable. You can also hold it in your hand and place it in the center of your body so that the chakra energies align.
Home Decor: A large bowl of tumbled stones can be a beautiful decoration in any space or even a potted plant. Tumbled stones provide cleansing energy to your home. It also provides healing, since it radiates positive energy to you and your home.
Placed in the Workplace: Tumbled stone provides energy that is beneficial to you and your business. It attracts prosperity, abundance, and money. Another thing is that it can also aid in making your intentions and manifestation come through and be effective in working in your career.
SPECIFICATIONS
Category: Natural Stone
Origin: India
Genuine gemstones: White Turquoise
Small Size: 0.59-0.78'' each
Large Size: 0.78-1.18'' each
Each Set Weighs: Approx 100g
Set of 3-5 unique and genuine White Turquoise gemstones
Each crystal is a unique creation of our mother nature. It is normal to find natural form of crack lines, holes, inclusions, and other minerals inside or on
Customer Reviews
Here are what our customers say.
Wow you reached the bottom
Most liked
Highest ratings
Lowest ratings
The review would not show in product details on storefront since it does not support to.
New Arrivals 15% OFF/CODE: NE15
View all