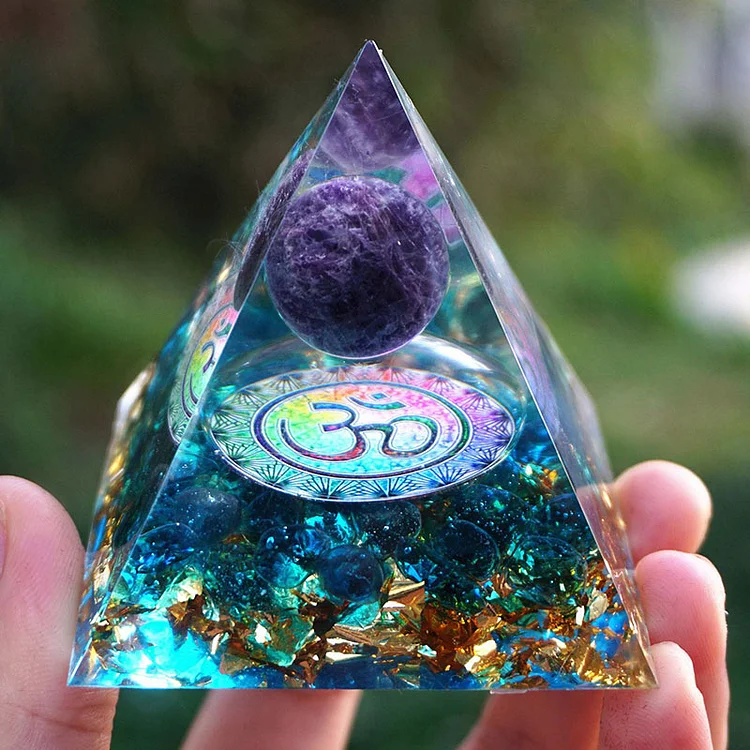 Experience the harmonizing energy of the Olivenorma Blue Quartz With Amethyst Ball OM Orgone Pyramid. This exquisite pyramid combines the calming properties of Blue Quartz with the spiritual wisdom of Amethyst. The OM symbol carved on the pyramid enhances its sacred vibrations, promoting peace, serenity, and spiritual growth. Elevate your meditation practice and create a tranquil atmosphere with this captivating orgone pyramid.

A tranquil mind is needed to navigate the rocky waters of life, and this Blue Quartz with Amethyst Ball OM Orgone Pyramid creates an aura of soothing calm and healing around you as you move along the journey of life. Whether you're weathering stormy seas or relaxing in shallow waters, this pyramid provides the clarity necessary to stay on course.
"I am the eye of the storm, moving calmly through life."
Soothe yourself in the powers of the ocean with this orgone pyramid. It provides calming, relaxing energy to your home to soothe you during turbulent times. It enhances creativity and work ethic, making it the perfect choice for an office. This pyramid ensures safe passage through life's difficulties so you can maintain your peace of mind.
MADE OF REAL NATURAL CRYSTAL 
Blue Quartz: Blue Quartz crystals represent the calm of the sea, the depth of the sky, and the beauty of a Gentian flower bent under the weight of the morning dew.
Amethyst: Amethyst boosts your positive experiences, allowing you to relax and revel in your peace of mind and develop your creativity. It also makes dark times a little brighter, grounding and encouraging you while easing the negative energies both around and within you.
SPECIFICATIONS 
Name: Olivenorma Blue Quartz With Amethyst Ball OM Orgone Pyramid
Category:

Orgone Pyramid

Genuine gemstones:

Blue Quartz, Amethyst

Size: 5cm*5cm, 6cm*6cm,8cm*8cm, 10cm*10cm
Gold metal shavings
Eco-friendly resin
Charged with singing bowl
WHY CHOOSE US
Great quality guarantee

Safe payment and multiple payment methods

Responsible shipping and customer service

Orders will be processed within one business day
Customer Reviews
Here are what our customers say.
Wow you reached the bottom
Most liked
Highest ratings
Lowest ratings