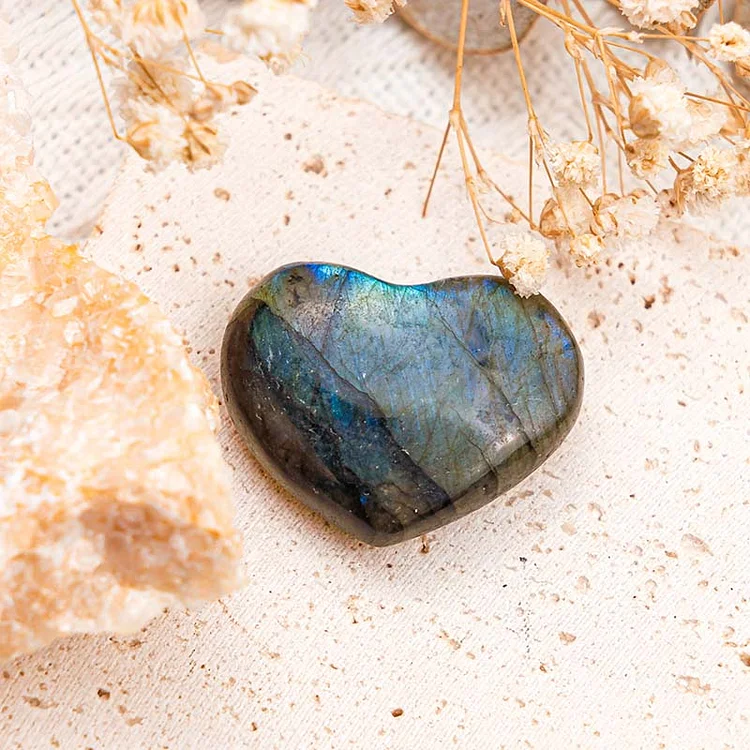 MADE OF REAL NATURAL CRYSTAL  
Connected to the Throat Chakra – the tool of communication, and the Third-Eye Chakra – that which connects us to the spiritual world, Labradorite toes that line between what we need here on earth and what can help us to leap higher. The Stone of Transformation and the Stone of Courage, if those two things call to you then Labradorite may be the healing stone you have been waiting for. Far from just a pretty face, Labradorite with its light shot color schemes seems to whisper powerful healing.  Labradorite clears out all that junk, revitalizing the spirit with a bright burst of energy and keeps you ticking rather than being weighed down by events of the world and personal responsibilities. If you ever needed a hint of motivation to rise to the challenge, Labradorite is ever ready to be your personal mascot.
For therapeutic purposes, Olivenorma only uses natural gemstones polished into a heart shape.
CRYSTAL HEART BENEFITS
Heal Your Heart Chakra: Holding a heart-shaped crystal while meditating can help to activate your Heart chakra. By focusing your attention on the crystal heart's energy, you are welcoming pure vibrations into your heart in a harmonious receptive state. It can also help to be and stay centered in your heart during the meditation.
Relieving Anxiety: Whenever you feel anxious, rub their smooth surface or carry them in your pocket. They can help heal emotional traumas, balance emotions, reducing anxiety and worries.
It's an Ideal Tool for Manifestation: Program your crystal heart with your intentions and place them in a crystal grid, acting as resonators, they will bring pure love frequencies into our hearts.
Heart Shape is a Symbol of Love and Devotion: These crystals not only look beautiful but also radiate the energy of pure love which makes them ideal for gifts for any occasion. with a beautiful heart-shaped crystal you can express your appreciation and gratitude to someone you love.
Balance Feng Shui: For Feng Shui purposes, crystal hearts are ideal to place in the bedroom and the living room. For romantic love, place your crystal hearts on both bedstands. For all kinds of loving relationships, place crystal hearts in your living room.
SPECIFICATIONS
Category: Crystal Heart
Origin: India
Genuine gemstones: Labradorite
Heart diameter: Approx 0.98''(2.5cm)  / 1.38''(3.5cm) / 1.77''(2.5cm) / 2.17''(2.5cm) / 2.56''(2.5cm) / 2.95''(2.5cm) / 3.35''(2.5cm) / 3.74''(2.5cm)
Set of 1 unique and genuine Labradorite hearts
Each crystal is a unique creation of our mother nature. It is normal to find natural form of crack lines, holes, inclusions, and other minerals inside or on 
Here are what our customers say.
Wow you reached the bottom
Most liked
Highest ratings
Lowest ratings
The review would not show in product details on storefront since it does not support to.
Newest - Eye of Horus Orgone Pyramid
View all