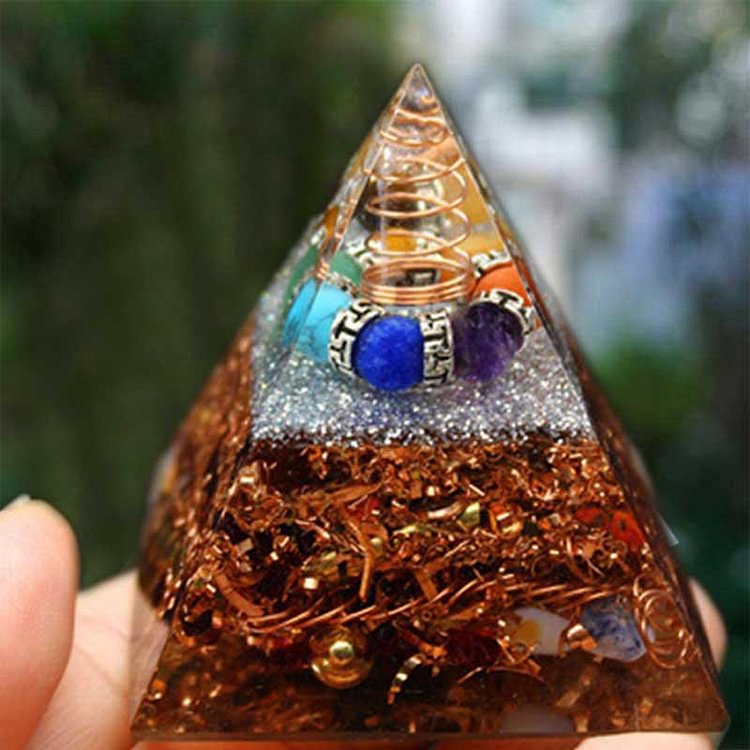 Why Is It Important To Balance Chakras?
Unbalanced chakras are caused by everyday stress, life problems, losses, lower frequencies from electronic devices that disrupt our energy flow.
Balancing your chakras can help restore the energy flow in your system, creating harmony and reducing stress. 
This is why we spent months perfecting our Chakra Orgone Pyramid to assist as many people as possible get rid of negative energy, bring harmony to the body, mind, and soul. 
Olivenorma's Chakra Orgone Pyramid emit intense, high-frequency vibrations to balance your chakras in the morning to promote a full of life feeling, positive and hopeful. Balance your chakras at night to help calm you down, ease your mind and promote deeper sleep.
They also provide great protection against electromagnetic pollution (EMF) from electronic devices such as your WiFi router and cellphone.
What is Orgone Energy and how can it change my life?
Orgone energy is similar to what the ancients have called prana, chi, or universal energy. Orgone energy is present in living things and flows throughout the universe. You can harness this vital life force energy and amplify it so you heal yourself from within, manifest your intentions and desires. 
Some of the benefits of Orgone energy:
✓ Get rid of negative energy around you
✓ Helps relieve stress and anxiety
✓ Protection against EMF (5G, WiFi, Cell towers, etc)
✓ Helps with spiritual and psychological growth
✓ Supports restful sleep 
✓ Strengthen intentions and visualizations
Each one of our orgone pyramid is carefully handcrafted with genuine chakra healing stones locally and ethically sourced by small artisans in Brazil. The layers of metal and eco-resin with carefully selected crystals aid in a variety of physical, emotional, and spiritual imbalances resulting from our current environment.
All my products are individually made by hand with high quality crystals. I hope these bring you peace and positive energy💕
Crystals✨
Amethyst
♥ Increases nobility ♥ Spiritual awareness ♥ Inner peace and healing ♥ Healing of body, mind & soul ♥ Positive transformation ♥ Meditation ♥ Balance ♥ Relieves stress ♥ Communication.
A gorgeous purple gemstone, the amethyst is said to bring strength, courage, and peace. These benefits can help promote healing. It's a soothing stone with peaceful properties, with a quiet energy that should also help release creativity. Since the stone has such tranquil qualities, it's a great gift for anyone suffering from anxiety, mood disorders, and addictions. It is said to promote spiritual and physical health.
Lapis Lazuli
♥ Inner truth ♥ Inner power ♥ Love ♥ Purification ♥ Intuition ♥ Positive magic ♥ Self-confidence ♥ Manifestation ♥ Friendship.
Lapis lazuli is said to uncover and access your inner noble and Divine nature. It is said to activate intuition, connecting you to spiritual guidance and visionary awareness and help you discern and speak the truth, as well as discover your truest inner Self.
Green Aventurine
♥ Opportunity♥ Lucky♥ Energy♥ Optimistic
The Green Aventurine is known as the "Stone of Opportunity" and is considered to be the luckiest of all crystals, especially in terms of expressing prosperity and wealth, or increasing favor in competitions or games of chance. People only need to get close to it to get its benefits.
Turquoise
♥ Purification ♥ Serenity ♥ Protection ♥ Wisdom ♥ Balance ♥ Strength ♥ Friendship ♥ Love ♥ Positive thinking ♥ Sensitivity.
Turquoise is said to activate and balance the throat chakra. This is the center of speech and self-expression. Turquoise is said to help speak wisdom and truth clearly. It is said that Turquoise helps in knowing and understanding that every part of us is an element of our Divine self, to be understood and embraced. Turquoise seems to encourage to accept ourselves, warts and all and may help release regrets and find self-acceptance.
Red Quartz
♥ calms anxieties & panic ♥ helps you to maintain emotional balance during times of stress ♥ grounding & balancing, especially if you're feeling scattered ♥ enhances focus & concentration.
A highly energetic crystal, Red Quartz not only removes negativity but also transforms & transmutes it into a positive, pure Universal light of love & tranquility. As a powerful grounding crystal, it can also be used to manifest your dreams into physical reality.
Amber
♥ Relieve pain ♥ Balance emotions ♥ Be brave ♥ Confidence ♥ Clear anxiety ♥ Focus.
The benefits of amber to the body include its ability to relieve headaches and balance hormones, balance emotions and boost mood! Amber has the ability to eliminate fearful thoughts. It enhances confidence and allows you to better handle large projects or anxious thoughts.
Tiger Eye
♥ Protection ♥ Clear thinking ♥ Personal empowerment ♥ Integrity ♥ Willpower ♥ Practicality ♥ Grounding ♥ Power ♥ Courage ♥ Grace.
Tiger eye is said to help with staying centered and calmly practical despite the ups and downs of life. It is considered to help balance polarities and accept contradictions, taking life as it comes and responding to the needs of the moment without judgment. It is considered to be a helpful stone for protracted difficult situations, that lends endurance and keeps you in the best state of mind to deal with problems as they come without getting overwhelmed, hopeless, or reactionary.
Each pramid taes dozens of hours to be perfectly handcrafted, cleansed with sage, and charged in the moonlight or sun. 
Specifications
Genuine gemstones: Amethyst, Lapis Lazuli, Green Aventurine, Turquoise, Red Quartz, Amber, Tiger Eye
Size: 5cm
Copper and gold metal shavings
Eco-friendly resin
Charged with singing bowl
Here are what our customers say.
Most liked
Highest ratings
Lowest ratings
Wow you reached the bottom
The review would not show in product details on storefront since it does not support to.
HAMSA-Good Fortune And Protection
View all