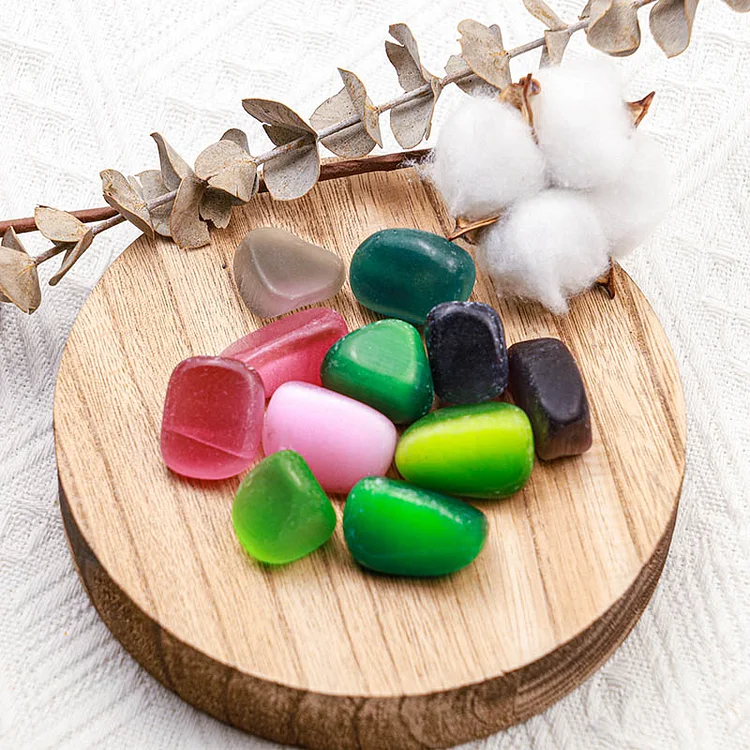 MADE OF REAL NATURAL CRYSTAL
💛Cat's Eye Gemstone
Cat's eye is believed to help ward off evil and acts as a talisman to protect against unforeseen danger. This stone brings wealth and prosperity and/or help people regain lost wealth. It is also believed to help with disorders of the eye, recovery from post-traumatic conditions, healing cancer, increasing night vision, regulating blood sugar and promoting mobility. Cat's eye quartz is said to bring good judgement and provide deeper understanding. It is also believed to enhance intuition and to increase one's psychic abilities and powers of concentration.
HEALING PROPERTIES AND BENEFITS
Cat's Eye Gemstone for Spiritual Enlightenment: The mystical planet Ketu brings in varied life experiences that often bring pain, misery and stress. Wearing cat's eye gemstone can help cope with such "more often than not experience," bringing peace and harmony.
Helps Bring Luck: Chrysoberyl, or cat's eye stone, is believed to bring luck, especially for individuals, who are involved in the business of speculation, gambling, share trading, etc.
A Powerful Stress Buster: The beautiful gemstone can help relieve mental imbalances and provide relief from stress and anxiety. It allows the wearer to ward-off negativity and unhealthy desires, which are the primary causes of depression in a person.
Brings Wealth and Prosperity: The cat's eye gem is believed to bring wealth and prosperity in life. It also helps regain lost wealth or revive a closed business.
Improves Memory: It is believed to offer enhanced vision to the wearer, improving memory power and awareness.
Removes Fear and Pessimism: The gemstone can provide relief from unknown fears and negativity that restricts a person to move forward and take positive steps in life.
Gifts Creativity and Intellect: Cat's eye emerald gifts its wearer with wit, intelligence, creativity and quick learning abilities.
HOW TO USE TUMBLED STONE
Mindfulness, Meditation, and Spiritual Healing: Tumbled stones are soothing and peaceful gems, known to calm stressful environments. They aid in decision-making and help offer clarity. When it comes to the body, they assist with support during healing of physical ailments such as chronic and long-term illness, as well as with pain relief.
Balancing Chakras: Choose the type of rolling stone based on the chakra concerned. Place them on parts of your body that often make you uncomfortable. You can also hold it in your hand and place it in the center of your body so that the chakra energies align.
Home Decor: A large bowl of tumbled stones can be a beautiful decoration in any space or even a potted plant. Tumbled stones provide cleansing energy to your home. It also provides healing, since it radiates positive energy to you and your home.
Placed in the Workplace: Tumbled stone provides energy that is beneficial to you and your business. It attracts prosperity, abundance, and money. Another thing is that it can also aid in making your intentions and manifestation come through and be effective in working in your career.
SPECIFICATIONS
Category: Natural Stone
Origin: India
Genuine gemstones: Cat's Eye Gemstone
Small Size: 0.59 -0.78'' each
LargeSize: 0.78-1.18'' each
Each Set Weighs: Approx 100g
Set of 3-5 unique and genuine Cat's Eye gemstones
Each crystal is a unique creation of our mother nature. It is normal to find natural form of crack lines, holes, inclusions, and other minerals inside or on
Customer Reviews
Here are what our customers say.
Wow you reached the bottom
Most liked
Highest ratings
Lowest ratings
The review would not show in product details on storefront since it does not support to.
2023 Newest Christmas Crystal Decor
View all