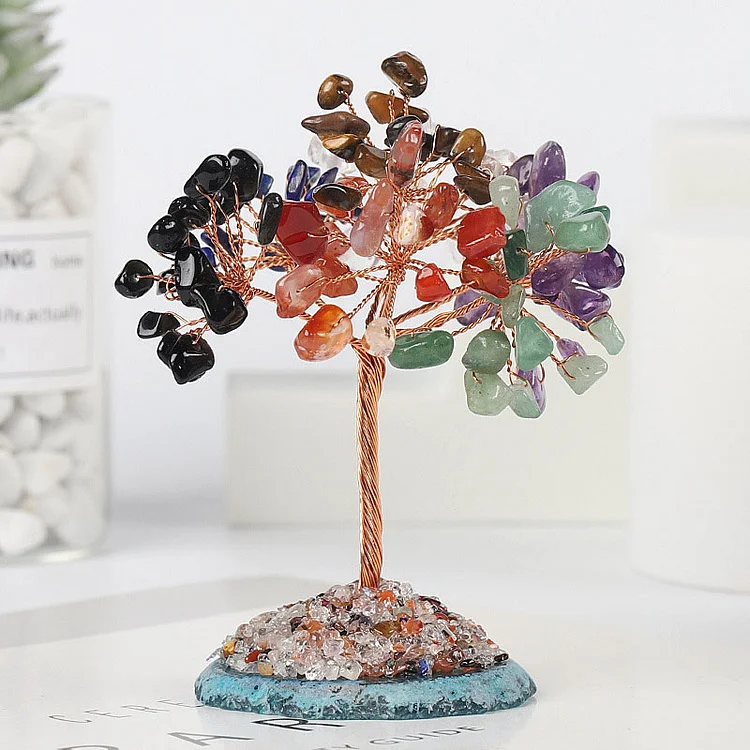 Note: All Feng Shui Trees are handmade after ordering, and the processing time is 7-10 days.
Do not dwell in the past, do not dream of the future, concentrate the mind on the present moment. Lively moments and total mindfulness become a common thing with our multi-stone Strength & Growth Feng Shui Chakra Tree, evoking growth in every perspective of your life and environment. Feel the authentic power of every unique gem and their respective abilities that make you a better person, an understanding partner, and a genuine friend.
Tree of Life Symbol: growth, deep grounding, fertility
Leaves:7 Chakra Stones
Amethyst Leaves:♥ Increases nobility ♥ Spiritual awareness ♥ Inner peace and healing ♥ Healing of body, mind & soul ♥ Positive transformation ♥ Meditation ♥ Balance ♥ Relieves stress ♥ Communication.
A gorgeous purple gemstone, the amethyst is said to bring strength, courage, and peace. These benefits can help promote healing. It's a soothing stone with peaceful properties, with a quiet energy that should also help release creativity. Since the stone has such tranquil qualities, it's a great gift for anyone suffering from anxiety, mood disorders, and addictions. It is said to promote spiritual and physical health.
Citrine:♥ Happiness ♥ Prosperity ♥ Generosity ♥ Creativity ♥ Pleasure ♥ Protection ♥ Strength ♥ Alignment ♥ Confidence ♥ Stability ♥ Moderation ♥ Energy ♥ Comfort ♥ Success ♥ Truth ♥ Goodness ♥ Warmth ♥ Digestion ♥ Assimilation ♥ Enjoyment of life ♥ Spiritual growth
Citrine energises every level of life.It cleanses the chakras and opens the intuition.Citrine is said to attract wealth, prosperity and success. It imparts joy, wonder, delight and enthusiasm. Raises self-esteem and self-confidence.Citrine promotes motivation, activates creativity and encourages self-expression.It is believed to release negative traits, depression, fears and phobias.
Clear Crystal(White Crystal):♥ Protection ♥ Healing ♥ Clarity ♥ Meditation
Wearing, carrying or meditating on clear crystals will open your mind to higher and stronger guidance. They will improve your concentration and increase your memory by filtering out distractions. The hypnotic qualities of clear crystal are also good for sleep and rest
Green Aventurine:♥ Opportunity♥ Lucky♥ Energy♥ Optimistic
The Green Aventurine is known as the "Stone of Opportunity" and is considered to be the luckiest of all crystals, especially in terms of expressing prosperity and wealth, or increasing favor in competitions or games of chance. People only need to get close to it to get its benefits.
Pink Crystal:♥ Soothing ♥ Warmth ♥ Love ♥ Self-acceptance
They will warm your heart and calm your soul. They will also help ease your emotions, soothe your body, and provide you with nourishing energy.Pink crystal promotes self-acceptance, self-worth, self-love and all kinds of love.
Red Quartz:♥ calms anxieties & panic ♥  helps you to maintain emotional balance during times of stress ♥ grounding & balancing, especially if you're feeling scattered ♥ enhances focus & concentration
A highly energetic crystal, Red Quartz not only removes negativity but also transforms & transmutes it into a positive, pure Universal light of love & tranquility. As a powerful grounding crystal, it can also be used to manifest your dreams into physical reality.
Peridot:♥ Healing ♥ Renewal ♥ Purification  ♥ Growth ♥ Relaxation ♥ Comfort ♥ Intuition
Peridot is said to help activate and harmonise the Solar Plexus and Heart chakras, creating an integration of Love and Will. This stone can assist you in having the courage to act out your heart's desires, to be generous to others, even as you pursue your individual destiny.
Why Is It Important To Balance Chakras?

Unbalanced chakras are caused by everyday stress, life problems, losses, lower frequencies from electronic devices that disrupt our energy flow.
Balancing your chakras can help restore the energy flow in your system, creating harmony and reducing stress. 
This is why we spent months perfecting our Chakra Orgone Decoration to assist as many people as possible get rid of negative energy, bring harmony to the body, mind, and soul. 
Specifications
Name: Olivenorma Strength & Growth Chakra Feng Shui Tree
Size: Small: 10cm(L)*8cm(W)*8cm(H) / Large: 10cm(L)*8cm(W)*12cm(H) 
Hand-wrapped Copper Wire
Agate Base: balance, grounding, harmony, stability
The Agate Base may be slightly different
Here are what our customers say.
Wow you reached the bottom
Most liked
Highest ratings
Lowest ratings
The review would not show in product details on storefront since it does not support to.