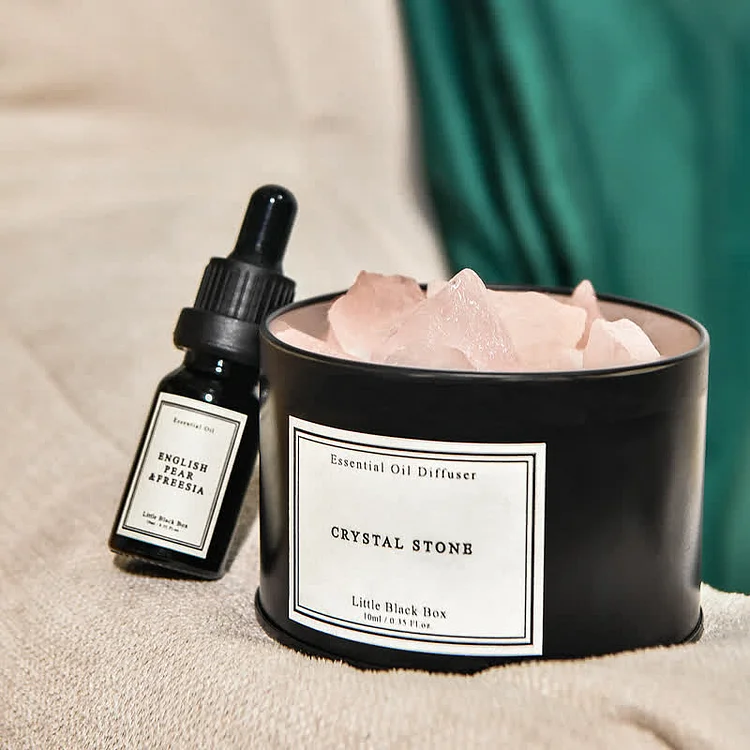 🌠With these challenging times, we could all use some good vibes! Essential oils (Aromatherapy) and crystals are some of the most enjoyable and great-smelling ways to get your energy to the next level.
MADE OF REAL NATURAL CRYSTAL  
💗Rose Quartz
It's believed among crystal healers that rose quartz can promote feelings of self-love. Rose quartz may be used to balance emotional health, release emotional blockages, and balance other chakras.
💚Green Aventurine
Aventurine is a heart chakra stone, its always ready to rouse those feelings of far-flung love and fantasy but in a way that feels strong and healthy, ever ready to raise you up. It's a comforter, a harmonizer, and a super handy stone to have stashed on the self for all those who want to bring a little more luck into their world. 
🤍Clear Crystal
Leap higher with the crown chakra healing of clear crystals. The crown chakra is the gateway to higher consciousness and helps us to connect our earthly energy with the universe. When we have a clear path of energy radiating out and communicating with the cosmos we can expand our consciousness, unite with the divine, and surrender to balance, trust, and bigger picture thinking.
🧡Carnelian
Carnelian has a function of improving insomnia, and it has a soothing effect on female dysmenorrhea, increasing the human magnetic field arsenic blood circulation, promoting the metabolism of the new city, and regulates improved weakness.
WHY CHOOSE CRYSTAL AROMATHERAPY LAMP? 
Nature has given us an incredible range of resources such as minerals and plants. As we all know, crystals have inherent power that amplifies stable energy vibrations. While,essential oils have innate physical and metaphysical therapeutic qualities. Altogether, we can harness these benefits throughcrystal-infused aromatherapy lamp.
Olivenorma High Vibration Healing Crystal Lamp offers a soft glow that not only relaxes the eyes, but also promotes mental, emotional and even physical healing. Place on your nightstand, desk or anywhere else in your home to create the perfect relaxing ambience for your room and transform your home into a luxurious and vibrant paradise.
BENEFITS OF CRYSTAL AROMATHERAPY LAMP 
Improve Air Quality
Create a nice ambiance
Ease stress, anxiety, and depression
Boost feelings of relaxation
Improve sleep
Help improve quality of life for people with long-term health problems like dementia
Ease certain types of pain, including pain from kidney stones and osteoarthritis of the knee
Fight bacteria when you put them on your skin
Ease some of the side effects of cancer treatment, like nausea and pain
Category: Crystal Aromatherapy Lamp
Origin: India
Natural Crystal:

Rose Quartz, Green Aventurine, Clear Crystal, Carnelian

Container size: 3.14*3.54'' 
Lamp Holder size: 3.93*0.78''
Essential oil volume: 10ml
Essential Oil Flavor:


Rose Quartz Wooden- Top: Orange and grapefruit; medium: pepper, geranium; after: patchouli, cedar, vetiver, balsam.


Green Aventurine Ocean - Top notes: aldehyde, sweet orange, sea breeze, middle notes: Lily of the Valley, clove, leather, bottom notes: musk, cedar
Clear Crystal Freesia - Top notes: cantaloupe and pear, middle notes: freesia and rose, bottom notes: musk, amber and rhubarb
Carnelian

Gardenia - Top notes: Gardenia, brandy, ylang ylang, Medium: creamy, Last note: floral
Customer Reviews
Here are what our customers say.
Wow you reached the bottom
Most liked
Highest ratings
Lowest ratings