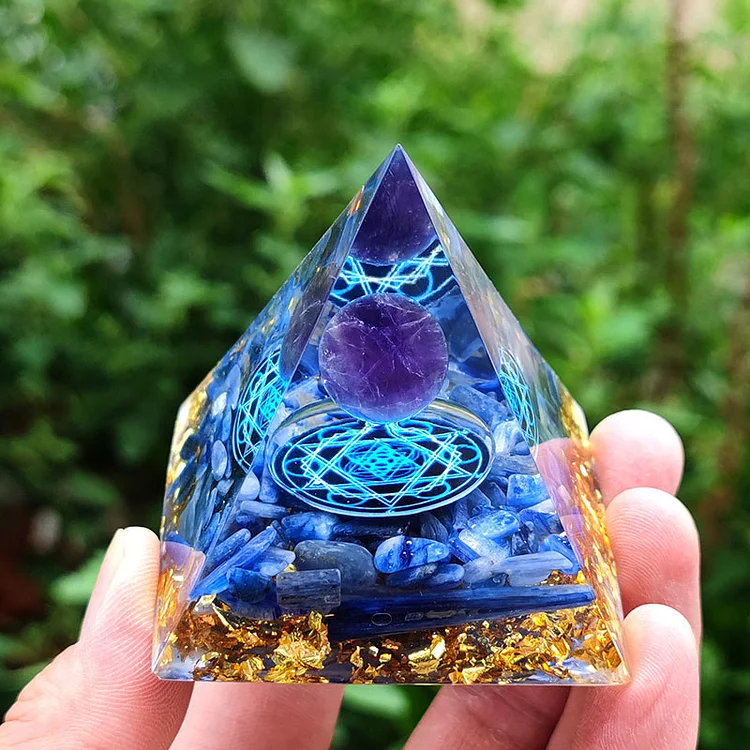 Embrace the harmonizing energies of the Olivenorma Kyanite With Amethyst Ball Orgone Pyramid. Crafted with precision, this exquisite pyramid combines the protective properties of orgonite with the calming influence of kyanite and the spiritual connection of amethyst. Feel the elevated vibrations as this pyramid creates a serene ambiance in your space, promoting balance and spiritual awakening. Illuminate your journey with this captivating pyramid.

MADE OF REAL NATURAL CRYSTAL  
💜Amethyst
A gorgeous purple gemstone, the amethyst is said to bring strength, courage, and peace. These benefits can help promote healing. It's a soothing stone with peaceful properties, with a quiet energy that should also help release creativity. Since the stone has such tranquil qualities, it's a great gift for anyone suffering from anxiety, mood disorders, and addictions. It is said to promote spiritual and physical health.
💙Kyanite
Kyanite is said to enable communication and energy transfer mind-to-mind, between the conscious mind and the dreaming mind (creating lucid dreams), and between the physical and astral body. It is said to create pathways that heal by bridging blocks and aiding communication between disparate parts of the self, or between people.
HOW TO USE ORGONR PYRAMIDS?
Meditate with an orgonite pyramid in your hand, direct your attention toward it-feel and sense the energy emanating from it. 
Put them near your TV, computer or any electric devices. Orgone energy minimizes EMF radiation from electronic devices, which has the potential to cause cancer and depression.
Carry a piece of orgone around you during the day. Place some pieces at your work desk or office. The benefits of the orgone will be transmitted to all within its vicinity. And make your workplace a friendlier and happier place.
Place them around your community and any other places you think need healing. Wherever you place these orgone pyramid, they keep the air and life force in the home clean and positive. 
Place an orgone pyramid or necklace around your dog's leash. This way, they are being protected and helped at all times too.
Cleanse any crystals with the orgone pyramid, just as you would harness the energy of the Sun or water to cleanse your crystals.
Take a bath with an orgone pyramid placed in the water for relaxing, soothing, detoxifying and revitalizing effects.
Place a piece of orgone pyramid underneath your pillow, can effectively relieve insomnia, and your sleep will be restful and energizing.

Place a piece of orgone pyramidin your fridge. It will make your food last longer and taste better by charging it with POE.
SPECIFICATIONS 
Category:

Orgone Pyramid

Genuine gemstones: Kyanite

, Amethyst

Size:5cm*5cm / 6cm*6cm / 8cm*8cm / 10cm*10cm
Gold metal shavings
Eco-friendly resin
Charged with singing bowl
WHY CHOOSE US
Great quality guarantee

Safe payment and multiple payment methods

Responsible shipping and customer service

Orders will be processed within one business day