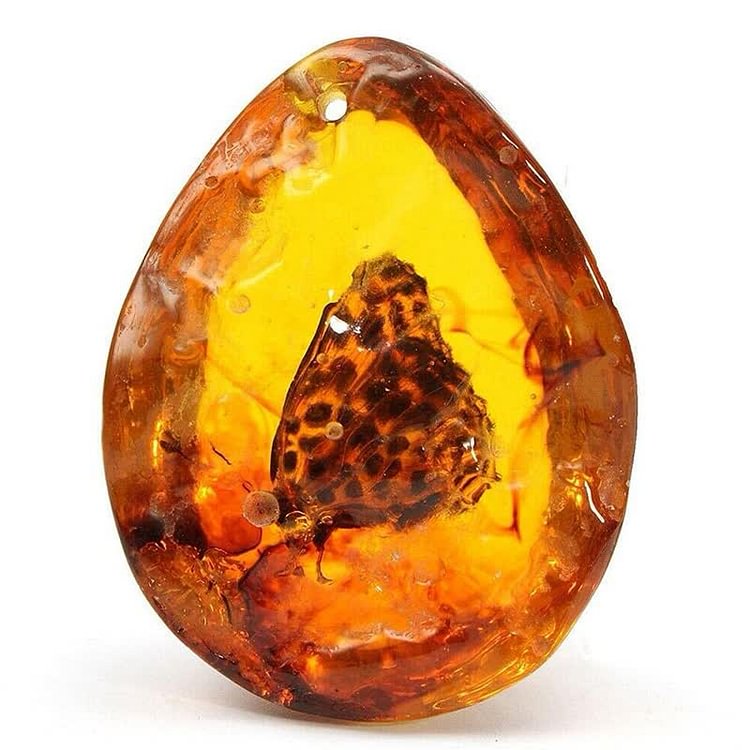 MADE OF REAL NATURAL CRYSTAL  
🧡Amber
Amber is a soul-stirring stone that has a pleasant pine scent, is warm to the touch and swirls in a show of shimmering golden light.
For those who care deeply about animals and environmental causes, be assured that the complete body of the insects utilized were respected by getting specimens from sustainable sources through taxidermy.
ABOUT THE PENDANT
Butterfly
In general, butterflies are supposed to stand for comfort, hope, and positivity as well as change and metamorphosis.
Scorpion
The Scorpion represents personal drive and focus in pursuing your goals in life. It stands for a focused type of energy that we all possess in some capacity.
Ladybug
Frequently regarded as a sign of success and wealth, encountering a lady bug is only good news.
Crab
Each of the crab's qualities—resilience, adaptation, growth and resourcefulness—can teach valuable lessons.
Beetle
Even though each specie is distinct, all beetles have a common symbolism of power, change and a return to nature.
Bee
They stand for qualities such as originality, creativity, knowledge, community and love.
Ant
A spiritual metaphor for the benefits of persistent hard effort, collaboration and endurance.
Red Bug
The red bug increases your need to engage in new social activities and outdoor physical activities.
Spider
When you're feeling down in life, call on the spider spirit animal to help you achieve peace and optimism.
Horned Spider
The horned spider represents effortless invention and weaving one's future. It tells you it's time to create your own, distinct golden thread of intention.
Bombardier beetle
Native Americans had the notion that this diminutive being could fend off evil spirits and prevent them from doing damage. It is linked to valor, sturdiness and defense.
Blister beetle
Blister beetles posses a toxin called cantharidin that is present in their bodily fluids. It stands for bravery and a readiness to stand up for oneself.
Bumblebee
The bumblebee will make you more aware of your surroundings and heighten your spiritual sensitivity.
Marmorated stink bug
Stink bugs are excellent at defense and camouflage. Even seemingly unimportant organisms have innate abilities and strengths that only surface under pressure.
Black Weevil
The weevil is a representation of tenacity and endurance. No matter how challenging life may seem, we can always find a way to get through it.
Blister beetle
The blister beetles are a suitable metaphor for success in one's pursuits. They herald positive events, advantageous blessings and good news.
Black Beetle
A beetle is unconcerned by all the negative labels that people have placed on it and keeps working tirelessly to maintain the ecology, soil and gardens.
Rhinoceros Beetle
The rhinoceros beetle is a representation of independence and the awareness of the several approaches to take action.
Cicada
A time of emerging is near when the cicada enters your awareness as a spirit animal. It's time to get up and focus on your own growth.
Longhorn Beetle
Longhorn beetles provide as an example of how to properly sense your surroundings by making use of their antennas.
Rice grasshopper
They are thought to bring wisdom with them and stand for a variety of things, including virtue, riches, longevity, achievement, courage and fearlessness.
BENEFITS OF WEARING CRYSTAL JEWELRY 
Support Renewing Your Vitality: Crystals can help to clear away "energetic debris" and negative energy, and also balance your subtle energies, and positively affect your physical health and mental well-being in pretty phenomenal ways. 
Balance Chakra: Healing crystal enhances your physical, emotional and mental health by affecting your chakras. Some "high vibrational" crystals also can open your awareness to higher levels of consciousness
Gorgeous Accessories: Every crystal and gemstone is a unique, beautiful and magical work of art by Nature. No matter what outfit you're wearing, there is a crystal that will add the perfect finishing touch, and they never go out of style.
It's meaningful: Jewelry made of different crystal materials can bring you different curative effects and surprises. If you are attracted to the color of a crystal, you are in desperate need of the healing and purification of this crystal.
SPECIFICATIONS 
Category: Pendant
Origin: India
Genuine gemstones: Amber
Size: 2.24'' x 1.7'' x 0.9''
Each Set weight: Approx 35g 
CARING FOR YOUR GEMSTONE JEWELRY
Don't crash hard objects or fall off & Keep it away from chemicals,cosmetics,wine,acid and alkali.
Clean gemstone jewelry and wipe it with a soft cloth to remove any dirt. Then, store your gemstone jewelry in a soft cloth pouch or jewelry case so it does not touch other pieces in your collection.
Keep it from high temperature and direct sunlight, which may cause damage to gemstones.
Remove any gemstone jewelry before engaging in any strenuous physical activity, such as exercise or sports.
Here are what our customers say.
Wow you reached the bottom
Most liked
Highest ratings
Lowest ratings