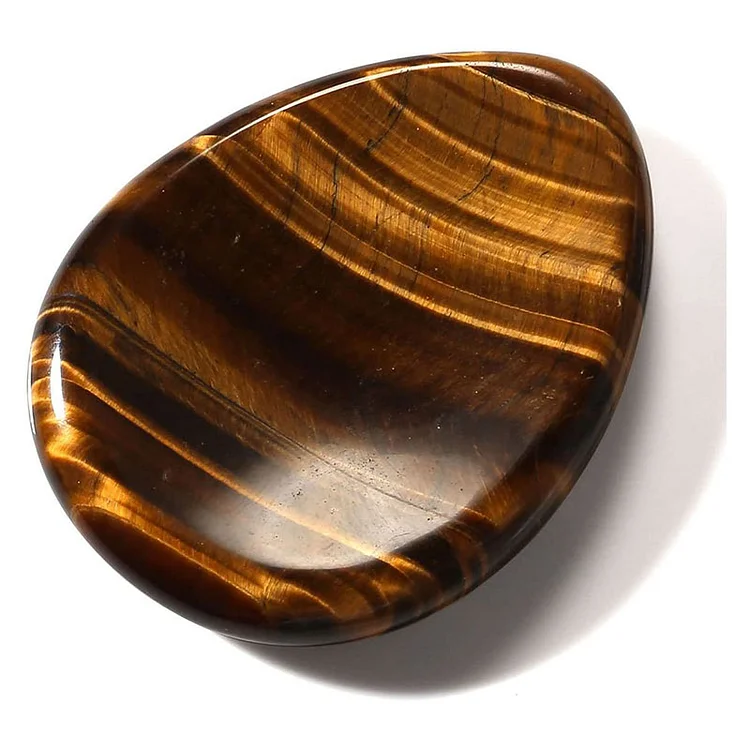 MADE OF REAL NATURAL CRYSTAL  
Tiger Eye
The Tiger Eye Worry Stone, which sparkles in orange and gold tones, draws inspiration from the animal after which it is named. The Tiger Eye Worry Stone wants you to embrace your wilder side and navigate the world with power. It gives you strength, prowess and the ability to protect yourself without building walls.
When everything around you is in a state of chaos, you sometimes need a pocket talisman or palm stone to give you a sense of control. The Tiger's Eye is a fierce protector and is so well-known as a protective amulet that it was even used on the breastplates of Roman soldiers. Keeping one of these golden quartz stones in your pocket or your hand will make you feel safe and secure and always prepared to face the day.
The Tiger Eye Worry Stone invokes the spirit of the Tiger, which is brave, powerful and rarely doubts itself. It is a warm-blooded stone with a deep earthy energy that strengthens your root chakra and infuses you with the spirit of fire, keeping you warm. This smooth, pocket-sized thumb stone has a significant amount of chi, so whenever you experience a drop in energy or lack of desire, just place the Tiger Eye Worry Stone into your palm and allow the powerful healing vibrations to work their magic.
The Tiger Eye, which works with the lower chakras, teaches us that poisonous energy is a haze that needs to be cleansed away, and that in order to achieve that, you must be perfectly anchored and secure in your own soul in order to soar higher.
WHAT IS A WORRY STONE? 
Worry stone, ie a little smooth stone with a thumb impression. The name of these flat stones comes from their reputation for reducing anxiety and promoting self-soothing during times of increased stress.
Worry stones go by a variety of names, including pocket stones, palm stones and others. Thumb stones, sometimes known as worry stones, are frequently made from polished crystals or precious stones selected for their therapeutic powers. The idea behind the worry stone is to fidget with it or rub it between your forefinger and thumb when you're feeling anxious or overburdened.
The process of stroking the stone stimulates specific pressure points associated to the meridians through the use of acupressure. This causes the brain to receive soothing signals and permits the release of pleasant hormones, which can help us regain our equilibrium. To calm and steady the mind, these palm stones can also be massaged while meditating or chanting mantras.
The Tiger Eye Worry Stone is also referred to as The Shapeshifter, which highlights its capacity to adapt to your particular energy and mood, particularly when it comes to establishing a connection with the solar plexus chakra. Because we are all unique, it is beneficial to have healing crystals that cooperate with us and encourage us to develop at our own precisely calibrated pace.
As stated above, to use, hold the stone between your index or middle finger and thumb. Gently move your thumb back and forth across the stone. Notice how soothing it feels? Give it your troubles and allow it work its soothing magic
WHAT ARE THE BENEFITS?
Stress and anxiety
Soothe the nervous system
Ease negative thinking
Clear the mind
Help keep you grounded
WHEN TO USE A WORRY STONE?
When you're feeling stressed.
This encompasses so many scenarios; big interview coming up? Getting ready for a date? Stressing about the state of the world? The sky's the limit with these stones. If you are going through a challenging transit, or periods of anxiety, you have access to it.
While meditating.
Another way to work with a worry stone is by incorporating it into your meditation practice. Similar to a mala used in Hinduism, which involves saying a mantra for each bead on the necklace, you can recite an affirmation or mantra every time you rub your stone. Or, for a less-involved approach, you can simply hold it in your palm as you meditate. It gives the mind something to do and can add to the relaxation benefits.
Before bed.
Stress and anxiousness have a knack for striking at the worst times—like when you're trying to fall asleep. Let all the worries of the day go by grabbing your worry stone before bed, Lyons suggests. You could even have one in the bath with you if that feels nice.
On a walk.
So often we think of meditation as being passive, but it can be a walk in nature—more of an active thing. Indeed, meditation doesn't come easy for all, but by turning an afternoon stroll into a moving meditation, with the added benefit of incorporating the worry stone, you'll get all the benefits of fresh air and movement, plus channel some stress while you're at it.
During a difficult conversation.
And lastly, if you struggle to keep your cool during arguments, that's another great opportunity to call on your worry stone. Reach for it when you feel tempers flaring, and give yourself a moment to gently rub the stone a few times and take a deep breath before you decide to speak.
SPECIFICATIONS
Category: Worry Stone
Origin: India
Genuine gemstones: Tiger Eye
Size: 1.37''(L)*1.77''(H)
Since the size above is measured by hand, the size of the actual item you received could be slight different from the size above.
Here are what our customers say.
Wow you reached the bottom
Most liked
Highest ratings
Lowest ratings
The review would not show in product details on storefront since it does not support to.