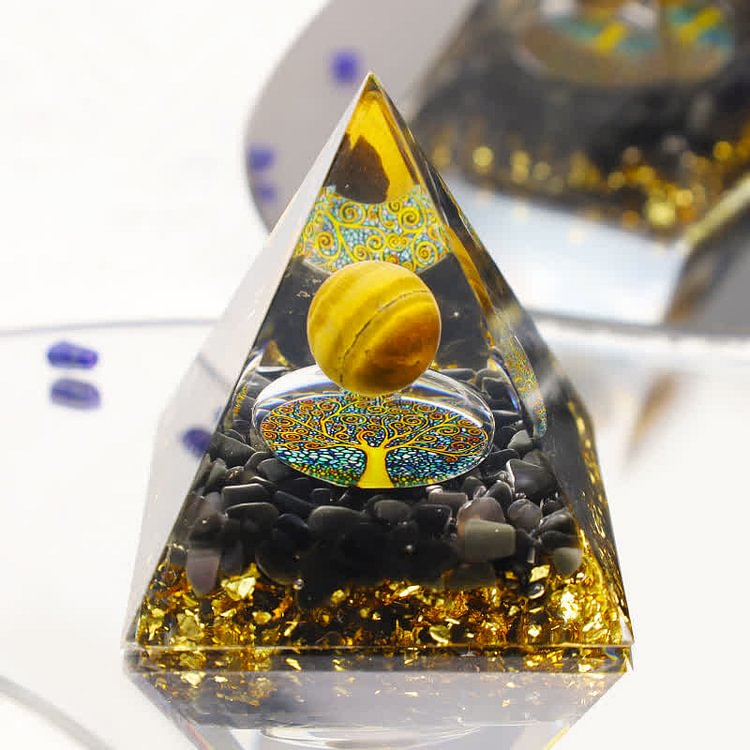 💫Like the glow of a tiger's gaze piercing through the night, an enlightened mind is a beacon in the dark. To achieve true enlightenment one must be prepared to open up their mind to understanding the world around them and more importantly understanding themselves. Powerful stones like Tiger's Eye, Obsidian, and Quartz crystals are great meditation and introspection tools that you can use to awaken your mind to the Divine nature of existence.
"Harnessing the power of this item I seek true enlightenment and open my mind to understanding."
MADE OF REAL NATURAL CRYSTAL 
Tiger Eye
♥ Protection ♥ Clear thinking ♥ Personal empowerment ♥ Integrity ♥ Willpower ♥ Practicality ♥ Grounding ♥ Power ♥ Courage ♥ Grace.
Tiger eye is said to help with staying centered and calmly practical despite the ups and downs of life. It is considered to help balance polarities and accept contradictions, taking life as it comes and responding to the needs of the moment without judgment. It is considered to be a helpful stone for protracted difficult situations, that lends endurance and keeps you in the best state of mind to deal with problems as they come without getting overwhelmed, hopeless, or reactionary.
Obsidian
♥ Purification ♥ Transformation ♥ Fulfilment ♥ Metamorphoses ♥ Manifestation ♥ Practicality.
Obsidian is considered to be an earth-stone that activates the root chakra and grounds you in your connection to the Earth. It is said to clear the aura of negative energy.
What is Orgone Pyramids?
Orgone Pyramid is a powerful energy generator, handcrafted from pure natural healing crystals and special metal materials, following Wilhelm Reich's Orgonite concept.
The world we live in is filled with harmful energies,each of these energies have a way of affecting our inner chakras and unbalancing our energies. Poorly aligned chakras can manifest in a variety of ways. Such as illness, emotional and psychological problems, frustration in life and career and so on. This is why we need the orgone pyramid to help us reposition our chakras and protect them from further damage.
How to Use Orgone Pyramids?
Meditate with an orgonite pyramid in your hand, direct your attention toward it-feel and sense the energy emanating from it. 
Put them near your TV, computer or any electric devices. Orgone energy minimizes EMF radiation from electronic devices, which has the potential to cause cancer and depression.
Carry a piece of orgone around you during the day. Place some pieces at your work desk or office. The benefits of the orgone will be transmitted to all within its vicinity. And make your workplace a friendlier and happier place.
Place them around your community and any other places you think need healing. Wherever you place these orgone pyramid, they keep the air and life force in the home clean and positive. 
Place an orgone pyramid or necklace around your dog's leash. This way, they are being protected and helped at all times too.
Cleanse any crystals with the orgone pyramid, just as you would harness the energy of the Sun or water to cleanse your crystals.
Take a bath with an orgone pyramid placed in the water for relaxing, soothing, detoxifying and revitalizing effects.
Place a piece of orgone pyramid underneath your pillow, can effectively relieve insomnia, and your sleep will be restful and energizing.

Place a piece of orgone pyramidin your fridge. It will make your food last longer and taste better by charging it with POE.
SPECIFICATIONS
Genuine gemstones: Obsidian, Tiger Eye
Origin: India
Packaging: Olivenorma velvet gift bag, gift box
Size: 1.97''*1.97''(5cm X 5cm) / 2.36''*2.36''(6cm X 6cm)  / 3.14''*3.14(8cm X 8cm) / 3.93''*3.93''(10cm X 10cm)
Gold metal shavings
Eco-friendly resin
Here are what our customers say.
Wow you reached the bottom
Most liked
Highest ratings
Lowest ratings
The review would not show in product details on storefront since it does not support to.