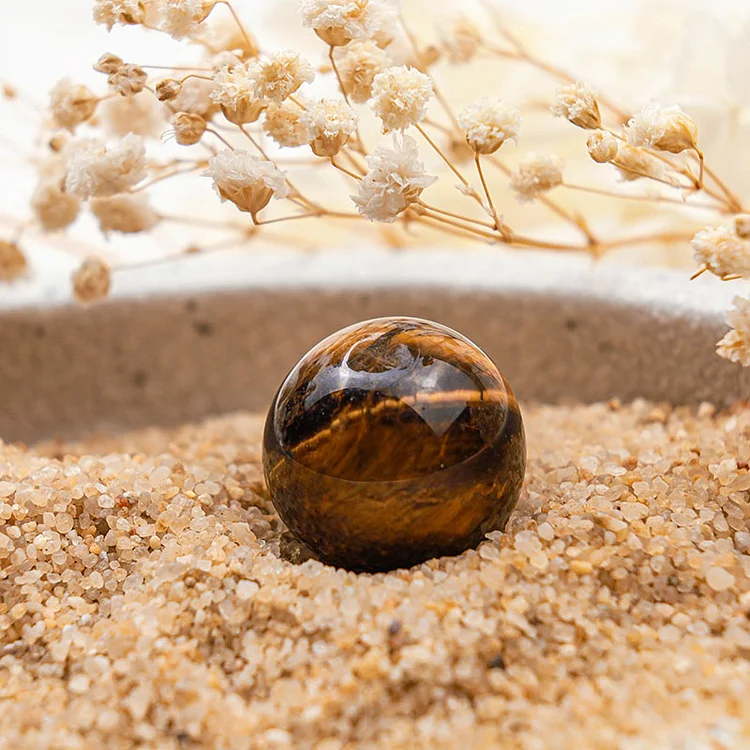 🌸Dark and polished and glinting with all the power of the jungles fiercest predator, the Tiger Eye Sphere brings a wild force of fabulous energy and healing to the table. A protective amulet, the Tiger Eye crystal sphere is here to ward off all evil, balance your wellbeing, and build strong foundations in your soul. 
"With this sphere, I am ever ready to embrace change and chaos without being knocked off my feet"
MADE OF REAL NATURAL CRYSTAL
🤎Tiger Eye
Connected to both the root and the sacral chakra, the Tiger Eye stone comes with a glut of glorious healing properties and benefits that help to balance physical and emotional wellbeing in one straight swoop. For those who tend to feel a little sluggish or soaked in lethargy, the Tiger Eye stone can use its fiery golden-brown chi to stir the pot and awaken motivation. When feeling blocked, the energy of Tiger's Eye can also cut straight through that lack of motivation and help shift focus by encouraging a more active approach to life. Tiger Eye can help to heal plenty of various relationships. Not only can it aid in positively overcoming low confidence to strengthen relationships with the self, but it can lend a hand when it comes to tricky emotional ties to finances and money.
CRYSTAL SPHERE BENEFITS
A crystal that is sculptured and polished as a sphere can be a strong energy conductor. Additionally, the sphere is our Earth's perfect form and shape, this form allows the crystal to radiate energy in all directions simultaneously. It is so powerful that it can be used in so many things, such as healing, the attraction of positive energy, as well as opening the 3rd chakra.
Crystal Spheres Inspire Creativity and Bring Prosperity. You can place a crystal sphere on your desk, it will enhance your intuition, keep you focused, help foster creativity, and create a better environment for the workplace.
Create Feng Shui Balance. Placing a crystal sphere in the center of your home brings energy and brightness to the area, bringing freshness to every room and making you feel more alive, alive and harmonious.
Crystal spheres For Meditation & Yoga. Meditation with a crystal sphere can effectively bring you into a deep meditative state. These spheres hold a strong frequency that gives the crystals benefits of chakra healing and chakra opening during meditation and yoga practice.
Provides Pure, Stable Positive Energy. Consider the crystal sphere as a space cleaner, as the crystal sphere emits a grounding frequency that energizes and purifies the room while also giving people a calmer, more focused energy.
Used for Divination. The way to read the crystal sphere is similar to the tarot cards, imagine your question in your mind, put your hands on the sphere, focus on staring at the crystal sphere and keep an open mind, the answer to the question will come closer and closer to you through the energy of the crystal .
SPECIFICATIONS
Category: Crystal Sphere
Origin: India
Genuine gemstones: Tiger Eye
Sphere diameter: 0.78''(2cm) - 0.98''(2.5cm)
Set of 3 Tiger Eye Crystal Sphere
Here are what our customers say.
Wow you reached the bottom
Most liked
Highest ratings
Lowest ratings
The review would not show in product details on storefront since it does not support to.
Newest - Eye of Horus Orgone Pyramid
View all