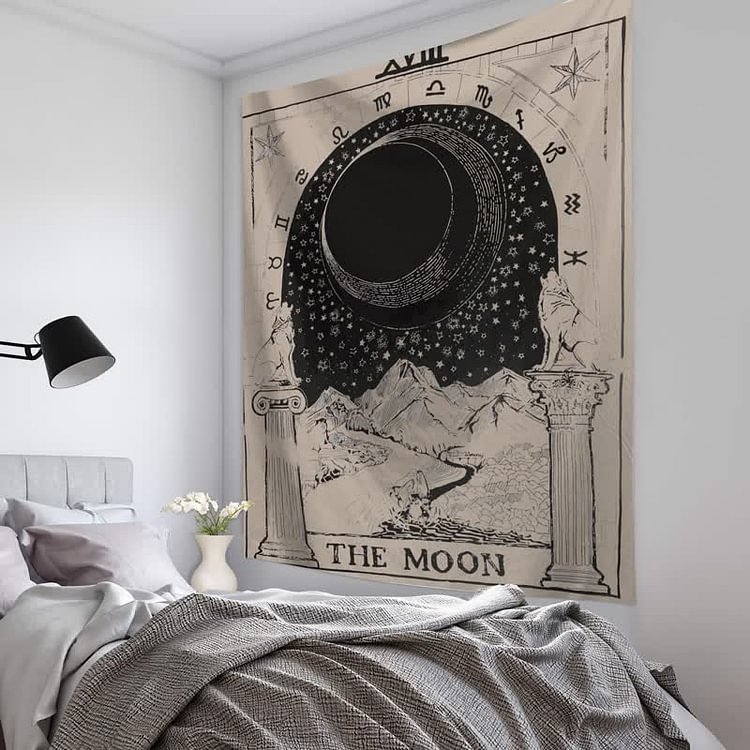 The Moon: intuition . secrets . complexity
There are often times in life when things seem out of focus and we have to dive deep to think about what we value the most. The Moon Card asks you to step away from distractions in order to embark on a journey of self-discovery. The path ahead reveals your spiritual journey in this life, and only through the illuminated light of the moon will you find clarity. Ultimately, it's important to trust and believe in your intuition to see beyond what's in front of you.
The Sun - warmth . affection . spirit 
You have drawn the Sun tarot card. Oh my stars, you are divinely favoured. Known to some as the "best card" in tarot; if chosen, you are manifesting positivity, success and enthusiasm. This card signals fertility and abundance in all aspects of life. People are drawn to your vibrant energy and issues you may be facing will melt away. Get ready to receive the fruits of the universe, good luck is coming your way!
The Lovers - spure love . harmony . partnerships
You have drawn The Lovers card. Concerning matters of the heart, you are welcoming a connection with a twin flame. This connection is not exclusive to romance but refers to a bond that will bring you great unity and balance. This card also symbolises choice and prioritising what brings you the most love and fulfillment in your life. Understanding your boundaries and what is most important to you will be brought to the fore. Never forget: your most divine self is your truest self. Lean into this and you will reap the rewards.
The Star - divine favour . renewal . new beginnings 
You have drawn the Star tarot card. This card represents contentment in your life and a newfound positivity borne from adversity. You are balanced and rejuvenated, inspired by the universe and what it has to offer. Say hello to a new dawn of stability in yourself and your surroundings.
Strength - truimph . resolve . strength
You have drawn the Strength tarot card. You are a tenacious individual who demonstrates astonishing self-determination and courage. Getting this card signals a triumphant conclusion to a great adversity you are currently experiencing. You can feel at ease knowing your hard work will pay off. Anything you put your mind to, will be yours. Manifest light, majesty and resilience into your life with this necklace. 
The Fortune- good fortune . change . balance
You are working to reach your goals and manifest great positive change into your life. In love, this card may indicate you are soon to find your soulmate or if in a relationship this may be The One! Positive change and cycles are the theme of this card. Remember: the light you put into the universe will be greatly rewarded.
Justice - justice. fairness. truth. cause and effect. law
The Justice Tarot card relates to karmic justice, legal matters and cause and effect. In a general context Justice is showing you that all actions have consequences. So look at your present circumstances in that context, how have your own actions contributed to where you find yourself today? Are there any karmic lessons that you should be learning from your current situation? This Major Arcana card is also a signifier of legal matters being resolved in a fair and balanced matter.
The Devil - addiction. depression. mental health issues. secrecy. obsession
In a general context, The Devil Tarot card can signify depression or addiction. It can also be a sign of feeling trapped or restricted. With this Major Arcana card in your Tarot spread you may feel as though outside influences or forces beyond your control are restricting you, leaving you feeling powerless and victimised. However, this is the illusion The Devil creates. You are in control of your own destiny and are not bound by anything other than your own attitudes and behaviour. Don't give up and don't give away your power. You don't have to tolerate negativity, criticism, manipulation or abuse from anyone.
Judgement - judgement. rebirth. inner calling. absolution
In personal terms, the Judgment Tarot card points to freedom from inner conflicts, and so clear a channel, that the buried talents and gifts of past incarnations can come through an individual in this lifetime. This card counsels you to trust the process of opening yourself, because what emerges is of consistently high quality. You can effortlessly manifest as a multi-dimensional being, and assist in evoking that response from others.
Category: Tapestry

Origin: India
Size: 37.4"*28.74"(95*73cm),59.0"*51.2"(150*130cm),78.75"*59.0"(200*150cm)
Why Choose Us:

Great quality guarantee
Safe payment and multiple payment methods
Responsible shipping and customer service
Orders will be processed within one business day
Here are what our customers say.
Wow you reached the bottom
Most liked
Highest ratings
Lowest ratings
The review would not show in product details on storefront since it does not support to.