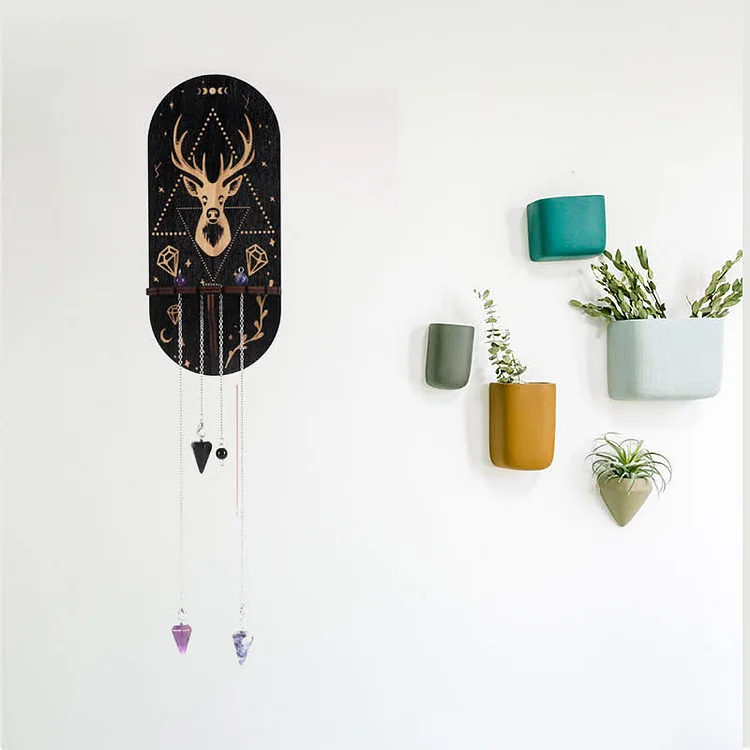 This Small Black Delicate Wooden Crystal Shelf will be an eye-catching decor for your space. The size is perfect for small crystals, candles, air plants, or any other treasures you would like to display.
HOW IT'S MADE
Made out of MDF wood and healing crystals with delicate engraved star and moon designs.
Stained in blackwood color and finished with environmentally friendly varnish.
You can easily hang a shelf on your wall.
It has a hanger on the back for easy wall mounting and screws are included.
MADE OF REAL NATURAL CRYSTAL  
🤎Tiger Eye
The Tiger Eye stone comes with a glut of glorious healing properties and benefits that help to balance physical and emotional wellbeing in one straight swoop. It awakens motivation, and helps shift focus by encouraging a more active approach to life. It aids in positively overcoming low confidence to strengthen relationships with the self.
💙Lapis Lazuli
Lapis Lazuli gives you that burst of confidence, clarity, and the ability to stand up for yourself. It encourages self-expression and helps us stay true and strong in our own light, it reduces pent-up frustration and anger, and it allows us to choose the path that works for us.
💙Sodalite 
Sodalite has a focus on logic, emotional balance, intuition and clarity. Healers looking for truth and perception will make use of the sodalite stone, and it also enhances intelligence. The high vibrations of the stone helps you better understand yourself and what needs to be done.
🖤Obsidian
As a highly protective stone, Obsidian helps your every inch stay detoxed. Obsidian is a crystal that calls into being deep tissue healing so your body can rejuvenate and be fresh, youthful, and full of fire.
💜Amethyst
Amethyst is believed to have healing properties that protect the bearer against negative energies. It brings clarity and peacefulness to the waking mind and also is said to calm rage and anxiety.
SPECIFICATIONS
Category: Crystal Shelf
Origin: India

Genuine gemstones: Tiger Eye, Lapis Lazuli, Sodalite, Obsidian, Amethyst
Shelf Size: 3.74"*8.46"(9.5*21.5cm)
Weight: Approx 75g