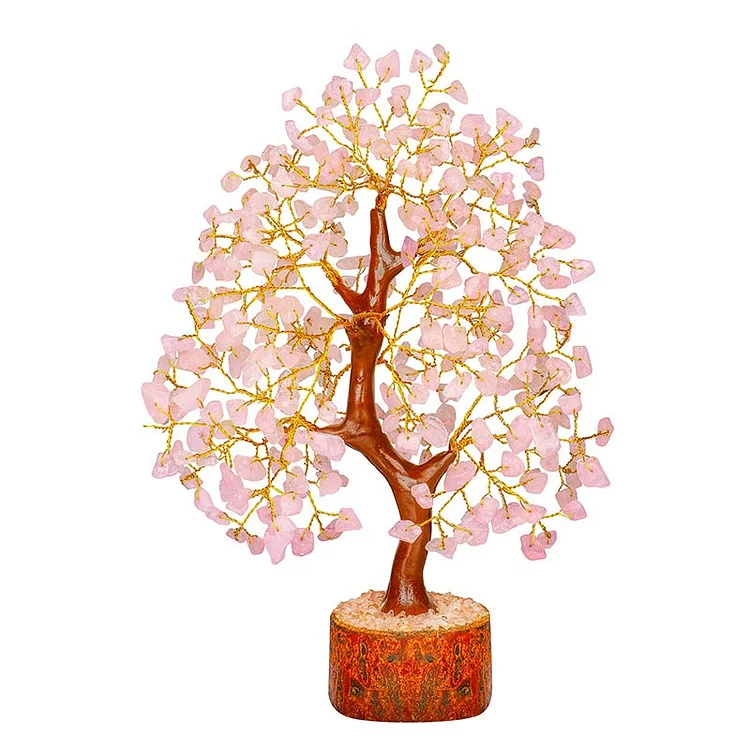 Note: All Feng Shui Trees are handmade after ordering, and the processing time is 7-10 days.
MADE OF REAL NATURAL CRYSTAL
💗Rose Quartz
The Rose Quartz stone is strongly attached to both the heart chakra and the throat chakra. But it's not a stone that simply rests in romance. Rose Quartz speaks softly to all kinds of love; from healing communication with family to developing a deeper bond with spouses and friends, and even bringing sweeter notes of self-care into your own world. One of the most stunning Rose Quartz healing properties is its ability to crack open the heart and put you back in alignment so you feel connected, comforted, and open to all the possibilities that a joyous life can bring.Rose Quartz is connected with the feminine divine, meaning that it carries the aura of compassion and peace and the warmth of mothering – all with the superior strength of spirit. If you feel you need to learn how to self soothe, to be healed by your own hands, and to uplift your own potential into the goddess sphere, then Rose Quartz is a path that will take you there.
WHAT IS A CRYSTAL FENG SHUI TREE?
The tree of life has become an archetype, appearing across various cultures as a spiritual and philosophical symbol. It is symbolic of new life, growth, abundance, stability, long life, strength, togetherness, ancestry, fertility and the interconnectedness of everything in the universe.
Crystal Feng Shui Trees are considered to have healing and cleansing energies and are said to attract positive energy in abundance and are believed to give us love, happiness and protection from the evil spirits around us.
WHERE DO I PUT THE FENG SHUI TREE?
According to feng shui, gemstones home decor will bring positive energy and prosperity when placed in the following places:
Crystal Feng Shui Tree is used in the Northwest home furnishing to increase money luck and opportunities from helpful people in your business pursuits or career
Place the Feng Shui Crystal Tree in the Southwest sector of your living rooms or bedroom to enhance your Love and Romance, luck
Those who want to improve their studies can display the Feng Shui Tree in the north east corner of the study table or study room.
To enhance your health, you should keep it in the East sector of your home or office as the East sector of your home deals with Health, the Tree works best in this sector.
If you suffer from nightmares or anxiety, place the gemstone tree by the side of your bed to help you have a good night's sleep.
your memory and attention to your research. The Northeast corner of the student's bedroom for educational luck and success luck in their studies
Positioning a crystal tree in the earth center of the house will enhance compassion and energetic harmony between family members
Keeping the chakra stone tree at home or workplace removes the imbalances in our life.
SPECIFICATIONS
Name: Olivenorma Rose Quartz Wooden Branches Feng Shui Tree

Genuine gemstones: Rose Quartz
Origin: India
Size: 9.84-11.8'' Tall. (25-30cm)
Since it is all about natural material when it comes to the tree base, each and every one is unique in terms of shape, color and size.