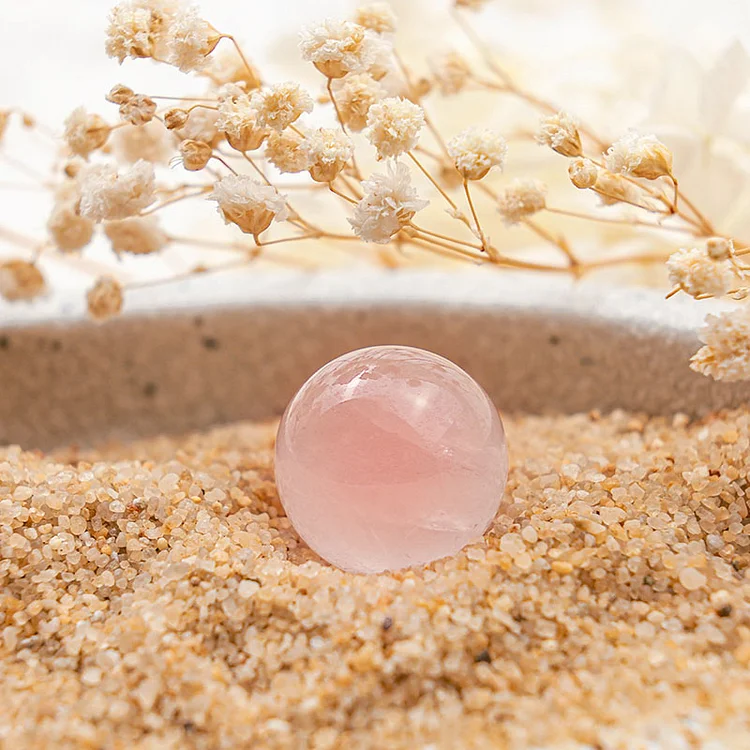 🌸Like sunrise after a rainstorm, or spring sunshine filtering across winter snow – the Rose Quartz comes in colors that lend well to the art of romance. Some Rose Quartz crystals can be as pale as a new dawn and others can be almost violet in color. With its softer than silk name, the Rose Quartz can be smoky, cloudy, or as clear as water. Boasting an earthly element and vibrating at the spiritual number of seven, Rose Quartz manages to occupy that space between being a thing of pure mystery while also being a comforting and gloriously grounding force. The ethos of Rose Quartz is to align your tender heart softly yet energetically with true and loving compassion.
"With this rose quartz crystal sphere, I have heard the most tender and romantic whispers."
MADE OF REAL NATURAL CRYSTAL
💗Rose Quartz
The Rose Quartz stone is strongly attached to both the heart chakra and the throat chakra. But it's not a stone that simply rests in romance. Rose Quartz speaks softly to all kinds of love; from healing communication with family to developing a deeper bond with spouses and friends, and even bringing sweeter notes of self-care into your own world. One of the most stunning Rose Quartz healing properties is its ability to crack open the heart and put you back in alignment so you feel connected, comforted, and open to all the possibilities that a joyous life can bring.
Rose Quartz is connected with the feminine divine, meaning that it carries the aura of compassion and peace and the warmth of mothering – all with the superior strength of spirit. If you feel you need to learn how to self soothe, to be healed by your own hands, and to uplift your own potential into the goddess sphere, then Rose Quartz is a path that will take you there.
CRYSTAL SPHERE BENEFITS
A crystal that is sculptured and polished as a sphere can be a strong energy conductor. Additionally, the sphere is our Earth's perfect form and shape, this form allows the crystal to radiate energy in all directions simultaneously. It is so powerful that it can be used in so many things, such as healing, the attraction of positive energy, as well as opening the 3rd chakra.
Crystal Spheres Inspire Creativity and Bring Prosperity. You can place a crystal sphere on your desk, it will enhance your intuition, keep you focused, help foster creativity, and create a better environment for the workplace.
Create Feng Shui Balance. Placing a crystal sphere in the center of your home brings energy and brightness to the area, bringing freshness to every room and making you feel more alive, alive and harmonious.
Crystal spheres For Meditation & Yoga. Meditation with a crystal sphere can effectively bring you into a deep meditative state. These spheres hold a strong frequency that gives the crystals benefits of chakra healing and chakra opening during meditation and yoga practice.
Provides Pure, Stable Positive Energy. Consider the crystal sphere as a space cleaner, as the crystal sphere emits a grounding frequency that energizes and purifies the room while also giving people a calmer, more focused energy.
Used for Divination. The way to read the crystal sphere is similar to the tarot cards, imagine your question in your mind, put your hands on the sphere, focus on staring at the crystal sphere and keep an open mind, the answer to the question will come closer and closer to you through the energy of the crystal .
SPECIFICATIONS
Category: Crystal Sphere
Origin: India
Genuine gemstones: Rose Quartz
Sphere diameter: 0.78''(2cm) / 1.18''(3cm)
Set of 3 Rose Quartz Crystal Sphere
Customer Reviews
Here are what our customers say.
Wow you reached the bottom
Most liked
Highest ratings
Lowest ratings
The review would not show in product details on storefront since it does not support to.
New Arrivals 15% OFF/CODE: NE15
View all