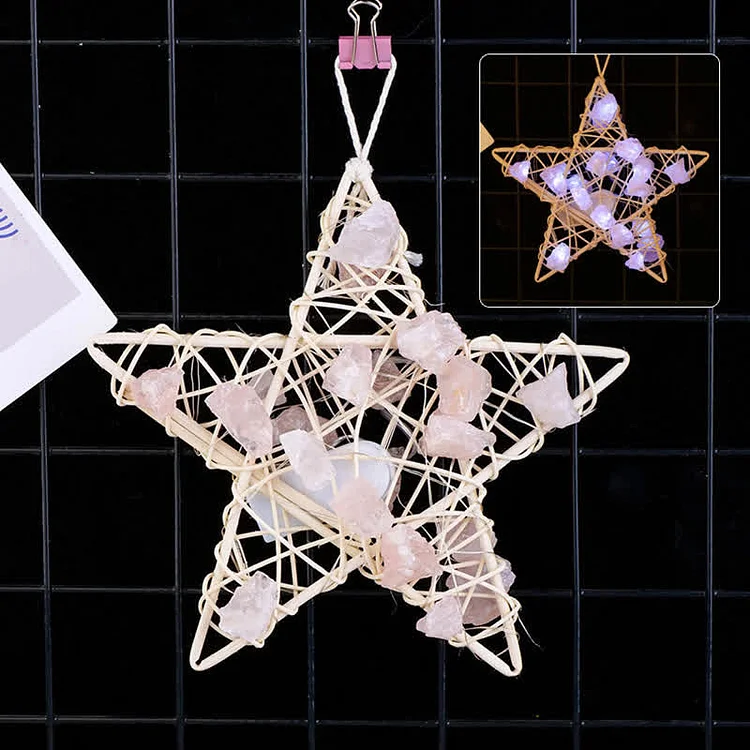 MADE OF REAL NATURAL CRYSTAL
💚Fluorite
One of the strongest qualities of the Fluorite stone is its uncanny ability to wave farewell to any ruminating negative energy. That's not to say that Fluorite is all about positive whitewashing. This stone allows you to feel all your feels, but rather than drowning in thick emotion, it helps you to hold perspective, be objective, and not become a slave to catastrophic thinking. It can be a great aura cleanser and is always ready to align and rebalance those chakras. Depending on which style of Fluorite you choose will depend on which chakra gets the crystal healing treatment. Blue Fluorite is for the throat, Green is for the heart, Purple is for the spiritual third eye, and Clear is for the shimmering crown.
🤍Clear Crystal
Leap higher with the crown chakra healing of clear crystals. The crown chakra is the gateway to higher consciousness and helps us to connect our earthly energy with the universe. When we have a clear path of energy radiating out and communicating with the cosmos we can expand our consciousness, unite with the divine, and surrender to balance, trust, and bigger picture thinking. Clear Crystal is here for mental clarity, for encouraging flexibility of the body and soul, for encouraging you to be pure and true, and for helping those higher chakras. From rousing the heart chakra to invoking inner wisdom, cleansing the aura, and opening the crown, the Clear Crystal can lift you higher to lofty places.
💗Rose Quartz
The Rose Quartz stone is strongly attached to both the heart chakra and the throat chakra. But it's not a stone that simply rests in romance. Rose Quartz speaks softly to all kinds of love; from healing communication with family to developing a deeper bond with spouses and friends, and even bringing sweeter notes of self-care into your own world. One of the most stunning Rose Quartz healing properties is its ability to crack open the heart and put you back in alignment so you feel connected, comforted, and open to all the possibilities that a joyous life can bring.Rose Quartz is connected with the feminine divine, meaning that it carries the aura of compassion and peace and the warmth of mothering – all with the superior strength of spirit. If you feel you need to learn how to self soothe, to be healed by your own hands, and to uplift your own potential into the goddess sphere, then Rose Quartz is a path that will take you there.
💛Citrine
Citrine is a stone that brings about good wealth and fortune. It's believed that citrine helps to cleanse chakras and open up the windows of intuition, creating a greater sense of alertness and a spiritual connection to one's self. At the same time, citrine is also a symbol of vitality, fresh beginnings, mental clarity and emotional well-being.
💙Sapphire
Like other beautiful blue gemstones, the Sapphire stone is connected to the throat chakra and the third eye chakra too. The sweet and wise energy of the Sapphire stone can help in healing across all avenues of the body. Thanks to its calming energy it is believed to promote peace and pristine rest, helping to slow down the mind and serving as a natural relief for those who struggle with insomnia. Sapphire also helps to balance the emotions which means that it can help reduce the physical symptoms that tend to be associated with stress and anxiety too.
💜Amethyst
Natural amethyst stones are connected to the third eye and crown chakras. The purple colour to reddish-purple hues of amethyst has long been a symbol of peace, cleansing and calming energy. Amethyst is believed to have healing properties that protect the bearer against negative energies. Some believe that the stone's calming properties produce soothing dreams by making us more in tune with the divine. The stone also brings clarity and peacefulness to the waking mind, as they help the mind flow freely in both the mental and metaphysical dimensions.It is said to dispel rage, help manage fears and anger, and calm rage and anxiety.Other believed benefits of amethyst include the ability to alleviate sadness and grief and dissolving negativity. The colour of this gem is also connected to activating spiritual awareness, welcoming intuitive energies and enhancing one's psychic abilities.
SPECIFICATIONS
Name: Olivenorma Romantic White Cane Star Lamp With Gemstones Christmas Decoration

Category: Decoration
Origin: India

Genuine gemstones: Fluorite / Clear Crystal / Rose Quartz / Citrine / Sapphire / Amethyst
Size: 7.87"*7.87"(20*20cm)
Weight: 150-200g
Why Choose Us:

Great quality guarantee
Safe payment and multiple payment methods
Responsible shipping and customer service
Orders will be processed within one business day
Here are what our customers say.
Wow you reached the bottom
Most liked
Highest ratings
Lowest ratings
The review would not show in product details on storefront since it does not support to.
Newest - Eye of Horus Orgone Pyramid
View all