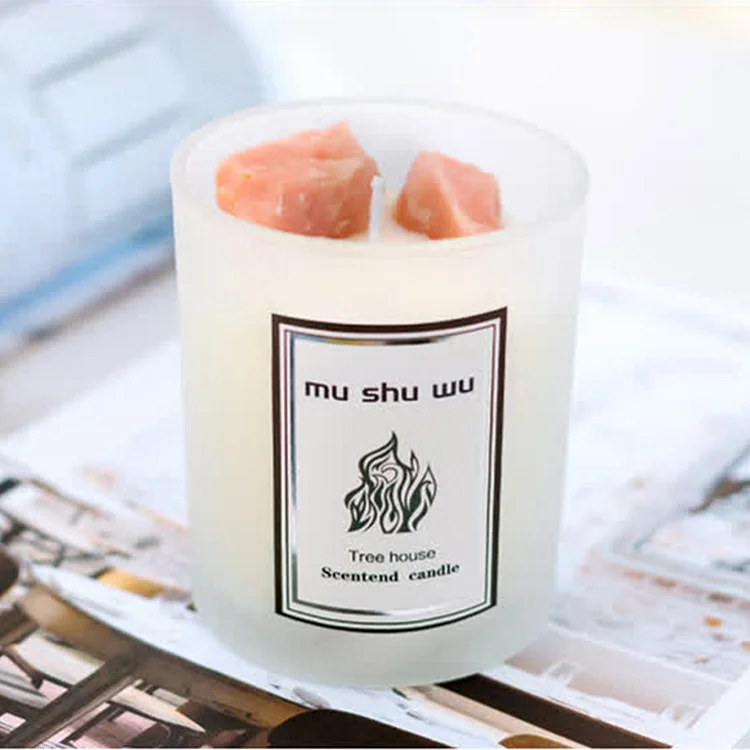 🔮Both crystals and essential oils are made from the earth's natural resources and are both often used for healing and improvement of health. Having them both perfectly blended in a candle is like the perfect gift from nature that is guiding you toward the state you want to reach.
MADE OF REAL NATURAL CRYSTAL
💞Strawberry Quartz
The energies of Strawberry Quartz resonate with the heart chakra. It will unlock, activate, and stimulate this chakra so that you will enjoy a more heart-centered awareness. Strawberry Quartz will help you look at your life experiences with love, acceptance, and joy.
💝Red Agate
Red Agate is a powerful gemstone that communicates with multiple chakras. The metaphysical properties of onyx make it a magical root chakra stone. This energy point is located at the base of the spine and is the foundation of our energy development.
💗Rose Quartz
It's believed among crystal healers that rose quartz can promote feelings of self-love. Rose quartz may be used to balance emotional health, release emotional blockages, and balance other chakras.
💙Sapphire
Like other beautiful blue gemstones, the Sapphire stone is connected to the throat chakra and the third eye chakra too. The sweet and wise energy of the Sapphire stone can help in healing across all avenues of the body.
🤎Tiger Eye
Connected to both the root and the sacral chakra, the Tiger Eye stone comes with a glut of glorious healing properties and benefits that help to balance physical and emotional wellbeing in one straight swoop.
Black Obsidian is a glorious stone for power, protection, and grounding. It is a root chakra stone which means that it keeps you tethered to the here and now and feeling a sense of strength and inner confidence. It also keeps negative energies at bay and gives you the courage to face your inner truths.
💚Peridot
Peridot is a prized gemstone known for its summer spirit, its good-luck vibes, and its uncanny ability to keep you calm and feeling safe no matter what is going on around you. This gorgeous gemstone is connected to the heart chakra and is always ready to help crack your love wide open so you can share in the sublime joy of the universe.
🧡Sun Stone
Aside from its healing powers, joy and direction for those unsure of which direction to turn, the sun stone harnesses the power of the sun. It can bring light in dark places, warmth in cold places, and vitality in places with low energy, Sunstone infuses you with worthiness, it hits all the right notes for ensuring that negative energies melt away and you are left with the radiance of optimism and a positive can-do attitude.
💜Amethyst
Amethyst is recognized as a stone of spirituality and contentment. It enhances spiritual awareness and promotes a higher state of consciousness. Stack up in peace and light up your crown chakra with our delicate amethyst bead bracelet. For those who crave peace of mind and wish to wash in patience and peace, these exquisite dream bracelets will bring you a fortune.
🤍White Turquoise
White turquoise is a calming stone. It helps relax the mind and body, our thoughts and emotions. It alleviates many of the things that cause us anxiety to begin with, such as critical thoughts about yourself and others, selfishness, stress, and more.
🤍Clear Quartz
This luminous gentle gem is also known as the "master healer", it absorbs all negative energy and filters it out. And tends to amplify energy, thought, and the effects of crystals that are in close proximity to it. It is a great healer in that it is capable of revitalising your emotional, mental, physical, and spiritual planes.
WHY CHOOSE CRYSTAL CANDLE?
We all love to be pampered, to feel comfortable, to be able to release and let go of stress and anxiety, and just feel calm and relaxed. However, with our busy schedules, tight economy, and the Covid-19 threat, going to the spa frequently might not be very ideal. Thank God there are candles.
Olivenorma blends crystals with candles, each of our candles are infused with different crystals, each crystal works on a different chakra and vibrates at a different level to offer healing and promote a healthy energy vibration in your space. Each of our candles have been created with a specific purpose.
When you light it up, you tune your brain to sense their unique scent in a certain way. The crystals add so much to the feeling also, allowing us to open our blocked chakras and to truly let the emotions flow. We want our candles to bring you light, to be able to support you in times of need, stress and also happiness.
BENEFITS OF CRYSTAL CANDLES
Relieve stress and help you relax
Provides better sleep
Increase focus
Can help you remember past memories
Improves memory
Promote positive energy
Improve mood
Boost confidence
Manifest abundance
Connect with your higher self
Helps you stay grounded
Name: Olivenorma Princess Peach - Handmade Natural Crystal Aromatherapy Crystal Candle

Category: Crystal Candle
Origin: India
Main ingredient: Soy wax,

Strawberry Quartz, Red Agate, Rose Quartz, Sapphire, Tiger Eye, Obsidian, Peridot, Sun Stone, Amethyst, White Turquoise, Clear Crystal

Candle size: 3.3"*2.75''(8.4*7cm)
Each weight: Approx 300g
Aromatherapy Flavor:
Strawberry Quartz - French Rose: Top Notes: Freesia/Sky Blue Sunflower, Middle Notes: Rose/Cinnamon/Honey, Base Notes: Amber/Aidano
Red Agate - Tropical Orchard: Top Notes: Grapefruit / Woody Notes / Pineapple, Middle Notes: Banana/Amber/Nutmeg/Call/Violet Leaf, Base Notes: Tropical Fruits
Rose Quartz - Princess Peach: Top Notes: Green Leaf / Blackcurrant / Petitgrain, Middle Notes: Nectarine/Black Ocean/Sunflower, Base Notes: Vetiver/Peach/Plum
Sapphire-Love the ocean: Top Notes: Orange/Plum/Peach, Middle Notes: Magnolia/Orchid/Wisteria, Base Notes: Sandalwood/Amber/Musk
Tiger Eye - Oatmeal Cookies: Top Notes: Oatmeal Cookies, Middle Notes: Caramel, Base Notes: Vanilla
Obsidian - Misty Vanilla: Top Notes: Bergamot / Neroli / Tangerine / Heliotrope, Middle Notes: Jasmine/Vanilla, Base Notes: Cedar/Musk
Peridot-Earth: Top Notes: Orange/Grape Oil, Middle Notes: Call / Geranium, Base Notes: Cedar/Musk
Sun Stone-Sweet orange diced: Top note: orange, Middle Notes: Osmanthus / Orange Blossom, Base Notes: Cedar/Musk
Amethyst - Blue Wind Chime: Top note: blue wind chimes, Middle note: persimmon, Base Notes: Locust Honey
White Turquoise - German Cologne: Top Notes: Bergamot, Middle Notes: Juniperberry, Base Notes: Cedar/Vanilla
Clear Crystal - Westin White Tea: Top Notes: Wormwood/Water Lily/White Lemon Oil, Middle Notes: White Tea / Okra / White Pepper / Tianshan Snow Lotus, Base Notes: Ambergris / Cedar Oil
Amethyst - Provence Lavender: Top Notes: Green Leaf/Lavender, Middle Notes: Violet, Base Notes: Musk/Cinnamon/Rose
Here are what our customers say.
Wow you reached the bottom
Most liked
Highest ratings
Lowest ratings
The review would not show in product details on storefront since it does not support to.