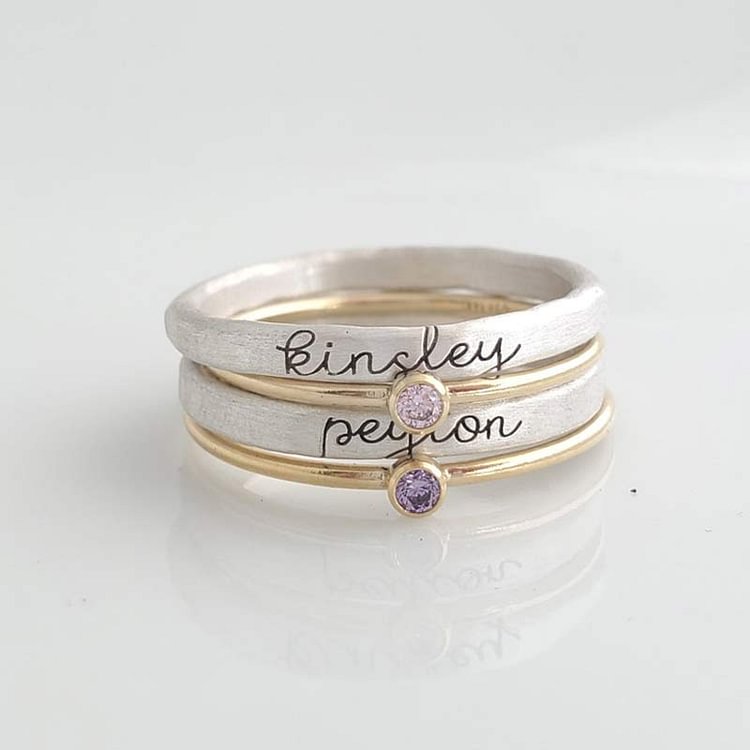 $73.99 Value - Just Cover Shipping
CRAFTED & PERSONALIZED WITH LOVE
✔One-of-a-kind customized gifts: We have prepared 1-8 high-quality birthstones for setting, you can choose your favorite color for your jewelry and birthstone, or design it with your own special words.
✔Keep the Love Alive – Whether it is a promise between family and friends or a romantic relationship, we have a great assortment of high-quality promise rings that are great for showing a special bond and devotion.
✔For you or someone you love - Our personalized engraved birthstone jewelry has a beautifully polished finish for a shiny appearance. They also arrive in a deluxe gift box. This is sure to be a great accessory for yourself and a great gift too!
✔You can choose 1-6 sets, each set includes a birthstone ring, a name ring, The first picture of the product is a 2-ring set

CHOOSE YOUR BIRTHSTONE


January - Garnet: Peace, Prosperity and Good health

February - Amethyst: Qualities of peace, Courage and Stability.

March - Aquamarine: Emotional healing, Relieves stress

April - Crystal: Beauty and Luck, Energy and Self-respect

May - Emerald: Rebirth, Love, and Wisdom

June - Light Amethyst: Opens the heart, Cleanses and Dispels Negativity

July - Ruby: Love, Health and Wisdom

August - Peridot: Strength, Success and Clarity

September - Sapphire: Loyalty and Trust, Help in soothing insomnia

October - Rose Quartz: Gentleness, Calmness, Love and Compassion

November - Citrine: Power, Health and Creativity

December - Blue Zircon: Protection, Dispels negative energy

BENEFITS OF WEARING BIRTHSTONE JEWELRY  
✔Each birth month of the year is represented by a unique gemstone, known as a birthstone. Individual birthstones have special meanings as well as unique attributes and can be worn to represent the unique characteristics of the wearer.
✔In addition, it has long been a widely accepted belief that wearing your birthstone is a symbol of wellness and good fortune, bringing the owner good luck and warding off bad karma and illness.
Category: Birthstone Ring Set
Strap Color: Silver / Gold / Silver Gold
Size: 5 / 6 / 7 / 8 / 9 / 10 / 11(Standard US size)
Birthstone Size: 3mm
Total ring set width: 8mm
Max Characters: 10
Ring Stack Width: 7.01 mm
WHY CHOOSE US
Great quality guarantee
Safe payment and multiple payment methods
Responsible shipping and customer service
Orders will be processed within one business day