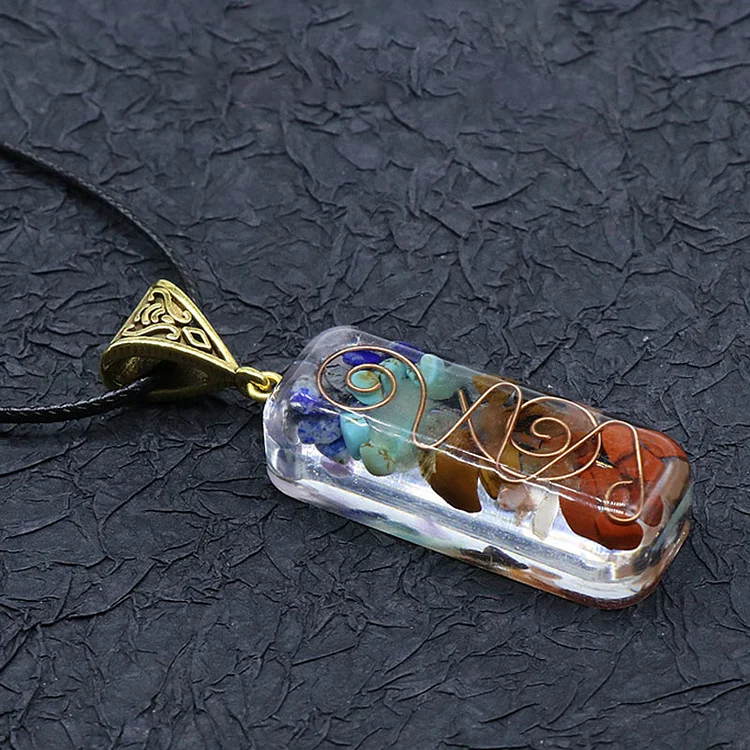 Why Is It Important To Balance Chakras?
Unbalanced chakras are caused by everyday stress, life problems, losses, lower frequencies from electronic devices that disrupt our energy flow.
Balancing your chakras can help restore the energy flow in your system, creating harmony and reducing stress. 
This is why we spent months perfecting our Chakra Orgone Necklace to assist as many people as possible get rid of negative energy, bring harmony to the body, mind, and soul. 
Olivenorma's Chakra Orgone Necklaces emit intense, high-frequency vibrations to balance your chakras in the morning to promote a full of life feeling, positive and hopeful. Balance your chakras at night to help calm you down, ease your mind and promote deeper sleep.
They also provide great protection against electromagnetic pollution (EMF) from electronic devices such as your WiFi router and cellphone.
What is Orgone Energy and how can it change my life?
Orgone energy is similar to what the ancients have called prana, chi, or universal energy. Orgone energy is present in living things and flows throughout the universe. You can harness this vital life force energy and amplify it so you heal yourself from within, manifest your intentions and desires. 
Some of the benefits of Orgone energy:
✓ Get rid of negative energy around you
✓ Helps relieve stress and anxiety
✓ Protection against EMF (5G, WiFi, Cell towers, etc)
✓ Helps with spiritual and psychological growth
✓ Supports restful sleep 
✓ Strengthen intentions and visualizations
Each one of our orgone pendant is carefully handcrafted with genuine chakra healing stones locally and ethically sourced by small artisans in Brazil. The layers of metal and eco-resin with carefully selected crystals aid in a variety of physical, emotional, and spiritual imbalances resulting from our current environment.
Each pendant takes dozens of hours to be perfectly handcrafted, cleansed with sage, and charged in the moonlight or sun. 
MADE OF REAL NATURAL CRYSTAL
Amethyst is most beneficial to the crown chakra. This chakra is all about higher consciousness, and clear crystal can help open you up to a deeper sense of spirituality
Lapis Lazuli allows our third eye to be open, flowing, helps us keep in touch with our own inner guidance system, therefore we make better decisions and feel more open-minded.
Aquamarine helps release problems in the throat area, such as repressed anger. It activates, energises and balances the throat chakra and encourages self-awareness.
Peridot is used to clear and activate the Heart Chakra for general well-being and emotional calm. It is also a powerful protector of the Heart Chakra.
Tiger Eye Natural Citrine's radiant yellow and gold energy activates, opens, and energizes the Sacral Chakras, directing personal power and aid in manifestation.
Red Agate, in its beautiful shades of red, stimulates the Sacral Chakra located below the navel and above the pubic bone at the front of the pelvis. It controls the flow of energy and is the center of gravity of the body.
Red Jasper activates the Base Chakra and stimulates the rise of the energy throughout the chakras, cleansing and strengthening the aura
BENEFITS OF WEARING CRYSTAL JEWELRY 
Support Renewing Your Vitality: Crystals can help to clear away "energetic debris" and negative energy, and also balance your subtle energies, and positively affect your physical health and mental well-being in pretty phenomenal ways. 
Balance Chakra: Healing crystal enhances your physical, emotional and mental health by affecting your chakras. Some "high vibrational" crystals also can open your awareness to higher levels of consciousness
Gorgeous Accessories: Every crystal and gemstone is a unique, beautiful and magical work of art by Nature. No matter what outfit you're wearing, there is a crystal that will add the perfect finishing touch, and they never go out of style.
It's meaningful: Jewelry made of different crystal materials can bring you different curative effects and surprises. If you are attracted to the color of a crystal, you are in desperate need of the healing and purification of this crystal.
SPECIFICATIONS  
Category: Necklace
Genuine gemstones: Amethyst, Lapis Lazuli, Aquamarine, Peridot, Tiger Eyes, Red Agate, Red Jasper
Size: 1.6cm*5.5cm / 1cm*6cm
Eco-friendly resin
Charged with singing bowl
CARING FOR YOUR GEMSTONE JEWELRY
Don't crash hard objects or fall off & Keep it away from chemicals,cosmetics,wine,acid and alkali.
Clean gemstone jewelry and wipe it with a soft cloth to remove any dirt. Then, store your gemstone jewelry in a soft cloth pouch or jewelry case so it does not touch other pieces in your collection.
Keep it from high temperature and direct sunlight, which may cause damage to gemstones.
Remove any gemstone jewelry before engaging in any strenuous physical activity, such as exercise or sports.
Customer Reviews
Here are what our customers say.
Wow you reached the bottom
Most liked
Highest ratings
Lowest ratings
The review would not show in product details on storefront since it does not support to.
2023 Newest Christmas Crystal Decor
View all