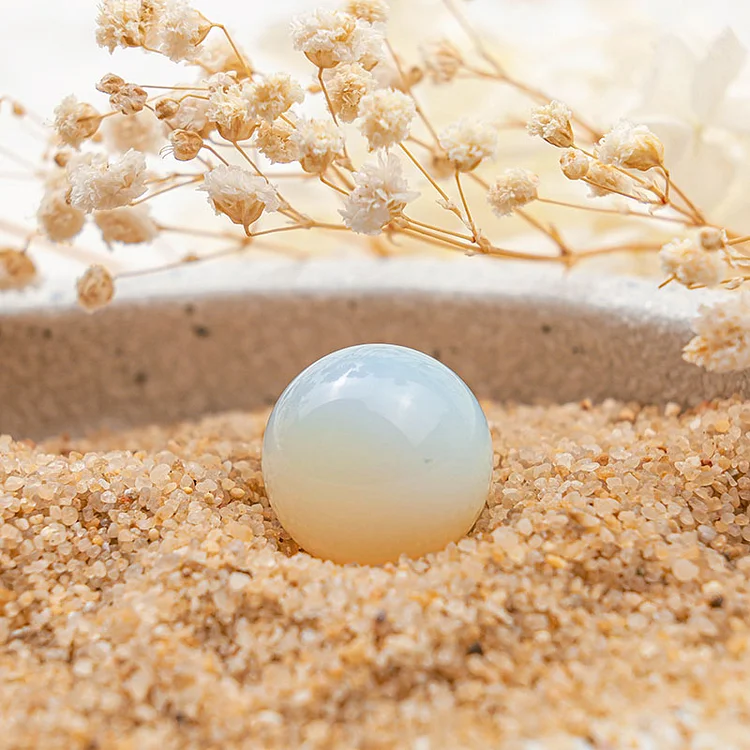 🌸Opal invites you to let go of old wounds, old patterns, and old connections that aren't serving you anymore. But it also invites you to take those lessons with you without being attached to the pain. Opal is known as a hope stone and a stone of pure positive change. It won't lead you down any paths that will set you back, but instead, it helps you to work through the emotional challenges so that you can balance your feelings and find your full potential waiting at the other side.
"Opal always wants to bring complete balance and harmony to your being."
MADE OF REAL NATURAL CRYSTAL
🤍Opal
Opal associated with the crown chakra for spiritual wealth and higher consciousness. A savvy supportive stone, Opal always wants to bring complete balance and harmony to your being. This gem has deep internal energy and encourages you not to shy away from yourself but to have the strength and the courage to look deep inside. Opal is also about amplification, meaning that this gem takes a smidge of a thought or feeling and shines a light on it so you can see clearly. It takes these feelings and amplifies it, sending messages out to the universe, and helping you to sweep out the junk that may have been clouding your vision and your heart.
CRYSTAL SPHERE BENEFITS
A crystal that is sculptured and polished as a sphere can be a strong energy conductor. Additionally, the sphere is our Earth's perfect form and shape, this form allows the crystal to radiate energy in all directions simultaneously. It is so powerful that it can be used in so many things, such as healing, the attraction of positive energy, as well as opening the 3rd chakra.
Crystal Spheres Inspire Creativity and Bring Prosperity. You can place a crystal sphere on your desk, it will enhance your intuition, keep you focused, help foster creativity, and create a better environment for the workplace.
Create Feng Shui Balance. Placing a crystal sphere in the center of your home brings energy and brightness to the area, bringing freshness to every room and making you feel more alive, alive and harmonious.
Crystal spheres For Meditation & Yoga. Meditation with a crystal sphere can effectively bring you into a deep meditative state. These spheres hold a strong frequency that gives the crystals benefits of chakra healing and chakra opening during meditation and yoga practice.
Provides Pure, Stable Positive Energy. Consider the crystal sphere as a space cleaner, as the crystal sphere emits a grounding frequency that energizes and purifies the room while also giving people a calmer, more focused energy.
Used for Divination. The way to read the crystal sphere is similar to the tarot cards, imagine your question in your mind, put your hands on the sphere, focus on staring at the crystal sphere and keep an open mind, the answer to the question will come closer and closer to you through the energy of the crystal .
SPECIFICATIONS
Category: Crystal Sphere
Origin: India
Genuine gemstones: Opal
Sphere diameter: 0.78''(2cm) / 1.18''(3cm)
Set of 3 Opal Crystal Sphere
Customer Reviews
Here are what our customers say.
Wow you reached the bottom
Most liked
Highest ratings
Lowest ratings
The review would not show in product details on storefront since it does not support to.
2023 Newest Christmas Crystal Decor
View all