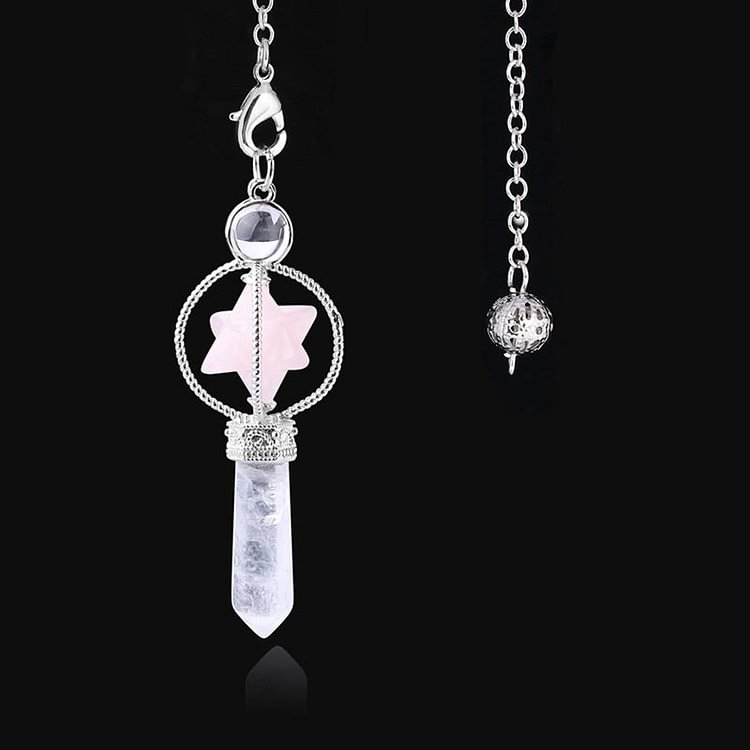 MADE OF REAL NATURAL CRYSTAL  
Amethyst
♥ Spiritual awareness ♥ Inner peace and healing ♥ Healing of body, mind & soul ♥ Meditation ♥ Balance ♥ Relieves stress 
A gorgeous purple gemstone, the amethyst is said to bring strength, courage, and peace. These benefits can help promote healing. It's a soothing stone with peaceful properties, with a quiet energy that should also help release creativity. Since the stone has such tranquil qualities, it's a great gift for anyone suffering from anxiety, mood disorders, and addictions. It is said to promote spiritual and physical health.
Pink Crystal
♥ Soothing ♥ Warmth ♥ Love ♥ Self-acceptance
They will warm your heart and calm your soul. They will also help ease your emotions, soothe your body, and provide you with nourishing energy.Pink crystal promotes self-acceptance, self-worth, self-love and all kinds of love.
Lapis Lazuli

♥ Inner truth ♥ Inner power ♥ Intuition ♥ Positive magic ♥ Self-confidence ♥ Manifestation 

Lapis lazuli is said to uncover and access your inner noble and Divine nature. It is said to activate intuition, connecting you to spiritual guidance and visionary awareness and help you discern and speak the truth, as well as discover your truest inner Self.
Tiger Eye
♥ Protection ♥ Clear thinking ♥ Willpower ♥ Practicality ♥ Grounding ♥ Power ♥ Courage ♥ Grace.
Tiger eye is said to help with staying centered and calmly practical despite the ups and downs of life. It is considered to help balance polarities and accept contradictions, taking life as it comes and responding to the needs of the moment without judgment. It is considered to be a helpful stone for protracted difficult situations, that lends endurance and keeps you in the best state of mind to deal with problems as they come without getting overwhelmed, hopeless, or reactionary.
Peridot

♥ Healing ♥ Renewal ♥ Purification  ♥ Relaxation ♥ Comfort ♥ Intuition

Peridot is said to help activate and harmonise the Solar Plexus and Heart chakras, creating an integration of Love and Will. This stone can assist you in having the courage to act out your heart's desires, to be generous to others, even as you pursue your individual destiny.
Green Aventurine
♥ Opportunity♥ Lucky♥ Energy♥ Optimistic
The Green Aventurine is known as the "Stone of Opportunity" and is considered to be the luckiest of all crystals, especially in terms of expressing prosperity and wealth, or increasing favor in competitions or games of chance. People only need to get close to it to get its benefits.
Clear Crystal(White Crystal)
♥ Protection ♥ Healing ♥ Clarity ♥ Meditation
Wearing, carrying or meditating on clear crystals will open your mind to higher and stronger guidance. They will improve your concentration and increase your memory by filtering out distractions. The hypnotic qualities of clear crystal are also good for sleep and rest
Opal
♥ Freedom ♥ Independence ♥ Loyalty ♥ Positive thinking 
Opal is an emotional stone and reflects the mood of the wearer. It intensifies emotions and releases inhibitions. Encourages both freedom and independence. Opal enhances cosmic consciousness and induces psychic and mystical visions. Wearing Opal brings loyalty, faithfulness and spontaneity.
White Agate
♥ Improve mentality ♥ Thinking ♥ Purity.
It is considered as a grounding stone that is able to bring spirituality into your life, improving mental functions and help you think clearly especially when you are concerned about some issues. The white color of Agate gemstone is associated with peace, calmness, purity, and protection.
Blue Turquoise
♥ Optimism ♥ Confidence ♥ Courage ♥ Acceptance of yourself ♥ Wisdom
Blue Turquoise is said to activate and balance the throat chakra. This is the center of speech and self-expression. It is said to help speak wisdom and truth clearly and help in knowing and understanding that every part of us is an element of our Divine self. Blue Turquois encourages us to accept ourselves and help release regrets and find self-acceptance.
Turquoise
♥ Purification ♥ Serenity ♥ Wisdom ♥ Balance ♥ Friendship ♥ Sensitivity.
Turquoise is said to activate and balance the throat chakra. This is the center of speech and self-expression. Turquoise is said to help speak wisdom and truth clearly. It is said that Turquoise helps in knowing and understanding that every part of us is an element of our Divine self, to be understood and embraced. Turquoise seems to encourage to accept ourselves, warts and all and may help release regrets and find self-acceptance.
Labradorite
♥ Transformation ♥ Strengthens our will ♥ Stimulates imagination ♥ Calming
A stone of transformation, Labradorite is a useful companion through change, imparting strength and perseverance. Excellent for strengthening intuition - promoting psychic abilities. Powerful in revealing the truth behind illusions, Labradorite banishes fears and insecurities, and strengthens faith in the self and trust in the universe.
Red Coral
♥ Absorbs negative energy ♥ Platonic love ♥ Creativity ♥ Passion ♥ Romantic love 
Red Coral stimulates the energetic pursuit of pre-determined goals. It helps protect from depression and despondency. It is believed to aid in the release of impurities from the muscular system.
Black Onyx
♥ Calm ♥ Courage ♥ Positive thoughts ♥ Strength ♥ Relieve melancholy ♥ Stability
Black Onyx is a stone that offers up powerful vibrations of protection, strength, focus,and willpower.This stone is here to continuously push you forward in your lifeByactivating your root,solar plexus,and third eye chakrasone is able to fully ground themselves to Earth.Not only will Onyxgive you a jolt of energyto get up and start pursuing your dreams, but also protect you on your new journey.
HOW TO USE A PENDULUM FOR DIVINATION?
Cleanse your crystal: upon receiving your pendant, wash it with water, or leave it outside under a full moon. Do this periodically.

Visualize your question in your mind's eye: the question can be about anything, but it should be a clear 'yes' or 'no'.

Determine what 'yes' and 'no' look like: decide the corresponding direction or pattern your pendulum should swing in, in order to reveal your answer. There is no right or wrong here, there is only your personal agreement with your crystal.

Gently swing your divination necklace to find your answer: your soul already has your answer, so just let your mind and body guide you intuitively.
SPECIFICATIONS
Category:

Pendulum

Origin: India
Genuine gemstones: Obsidian, Opal, White Agate, Blue Turquoise, Turquoise, Labradorite, Red Coral, Amethyst, Tiger Eye, Green Aventurine, Clear Crystal(White Crystal), Pink Crystal, Black Onyx
Pendant Size:2.75*1.02'' 
Chain Size:7.08''
CARING FOR YOUR GEMSTONE JEWELRY 
Don't crash hard objects or fall off & Keep it away from chemicals,cosmetics,wine,acid and alkali.
Clean gemstone jewelry and wipe it with a soft cloth to remove any dirt. Then, store your gemstone jewelry in a soft cloth pouch or jewelry case so it does not touch other pieces in your collection.
Keep it from high temperature and direct sunlight, which may cause damage to gemstones.
Remove any gemstone jewelry before engaging in any strenuous physical activity, such as exercise or sports.
Here are what our customers say.
Wow you reached the bottom
Most liked
Highest ratings
Lowest ratings
The review would not show in product details on storefront since it does not support to.