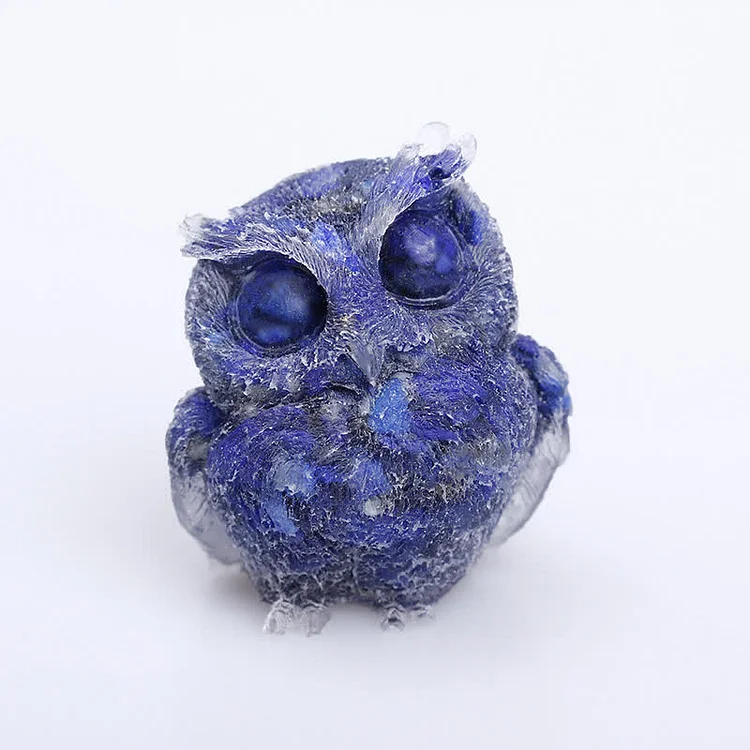 Experience the captivating beauty and transformative energy of the Olivenorma Crystal Decoration. Crafted from real natural crystals, this exquisite collection features a variety of gemstones, including Lapis Lazuli, Cat's Eye Stone, Amethyst, and more. Each stone holds its own unique symbolism and benefits, from sharpening perception to grounding and improving tranquility. Embrace the wisdom, protection, and insight represented by the owl figurine, while purifying energy and connecting with the power of nature.
MADE OF REAL NATURAL CRYSTAL
💙Lapis Lazuli
With this Lapis lazuli owl, you can sharpen your perception and raise your level of consciousness. This stunning figurine can serve as a symbol of strength, assurance, wisdom and intuition.
🤍Cat's Eye Stone
The optical phenomenon known as "chatoyance," causes the vertical ray of light that travels through this gemstone to appear to resemble a cat's eye. This powerful stone is reported to draw earth energies and provide grounding, tranquility and improved.
💜Amethyst
While the ever-watchful owl is a creature of insight and intelligence, the amethyst stands for wisdom, spiritual protection and awakening to higher awareness. You can now tap into protection and knowledge.
The owl is a symbol of the beginning of a close relationship with knowledge, wisdom and sound judgment. With this sigil, you become blessed with insight and intuition just like the owl, which is recognized for its keen observation and piercing vision.
Change or transition is another theme in owl symbolism. It indicates an approaching shift that will have an impact on how you currently live.
This shift may not be significant but it will encourage you to break unhealthy behaviors and adopt new ones. The newness will herald the arrival of fresher, better things that will enhance and reorient your life.
CRYSTAL DECORATION BENEFITS
Purify energy
Have you noticed negative emotions in certain rooms? Maybe something doesn't feel right to you, or bad things seem to keep happening. Crystal has the ability to shield, absorb and transform negative energy, choose a favorite crystal for home protection.
Ground Yourself
Since natural crystals come from the earth, they are connected to the earth element in feng shui. Earth energy encourages grounding and stability. If you feel uneasy, you can choose more earth element crystals (eg tiger's eye, tourmaline) to introduce into your home.
Improve Feng Shui
Crystals can also enhance and instill energy in the environment. Placing crystals at office and home entrances is conducive to absorbing more abundance and prosperity.
connect you with nature
Each crystal is a one-of-a-kind artwork from Earth. Placing crystals in your home is not only a beautiful decoration, but also serves as a connection with Mother Nature.
Reduce environmental stress
If you're creating a relaxing and peaceful home environment, consider placing crystals near electronics or in your bedroom, as crystals help reduce damage from electromagnetic fields and combat fatigue caused by mental and physical ailments.
HOW TO DISPLAY CRYSTALS IN YOUR HOME
Hallway — Cleansing, Energy (Obsidian, Rose Quartz, Black Tourmaline)
Bathroom — Relaxation, Cleansing (Rose Quartz, Amethyst, Clear Quartz)
Living Room — Relaxation (Lapis Lazuli, Tiger Eye, Amethyst)
Bedroom — Relaxation, Healing (Citrine, Aquamarine, Amethyst)
Office — Focus, Energy (Clear Quartz, Kyanite, Turquoise)
SPECIFICATIONS
Name: Olivenorma Natural Crystal Resin Owl Gemstone Decoration
Category: Gemstone Decoration
Origin: India
Genuine gemstones: Lapis Lazuli, Cat's Eye Stone, Amethyst, Strawberry Stone, Fluorite, Tiger Eye, Clear Crystal, Rose Quartz, Aquamarine, Moonstone, Peridot
Ornament size: 1.96''(L) * 1.73''(W) * 2.16''(H)
Here are what our customers say.
Wow you reached the bottom
Most liked
Highest ratings
Lowest ratings
The review would not show in product details on storefront since it does not support to.
Newest - Eye of Horus Orgone Pyramid
View all