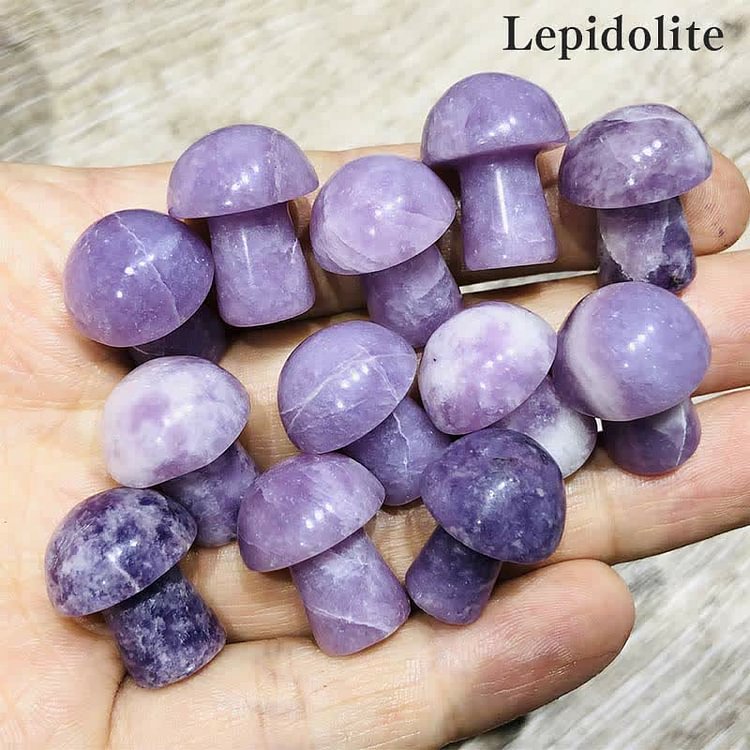 MADE OF REAL NATURAL CRYSTAL
Cleansing/Energy Boosting Crystals: Obsidian, Rose Quartz, Black Tourmaline
Cleansing/Relaxing Crystals: Rose Quartz, Clear Quartz, Amethyst
Relaxing/Grounding Crystals: Lapis Lazuli, Tiger's Eye, Amethyst
Healing/Sleep Boosting Crystals: Citrine, Amethyst, Aquamarine
Focus/Energy Crystals: Clear Quartz, Kyanite, Turquoise
The power of a crystal is related to the energy it emits. Each crystal is a one-of-a-kind piece of art gifted to us by nature. These Natural Crystal Mini Mushroom Decorations are not only absolutely stunning – they also serve as a direct connection with Mother Nature. They are instilled with their own unique vibrational frequencies, and their power can be experienced whether you wear crystal jewelry or surround yourself with crystal decor, so long as your crystals are charged and cleansed properly. Crystal decorations are an excellent way to encompass yourself in nature's healing powers while enhancing the look of your home. Each and every crystal has its own set of metaphysical properties; if you're looking for something particular, be sure to research to ensure you're getting the perfect crystal to suit your needs.
Purify Energy: Have you noticed negative emotions in certain rooms? Maybe you can't shake the feeling that something is off. Crystals can purify and protect a room, absorbing and transforming negative energy to reduce metaphysical mishaps in your home.
Ground Yourself: Earth energy encourages grounding and stability; if you're experiencing unease or restlessness or need a little extra solidity during your day-to-day life, crystals with powerful grounding abilities are an excellent addition to your home.
Improve Feng Shui: Crystals can enhance and instill energy in the environment, enhancing the feng shui of your home. Placing crystals at office and home entrances is conducive to attracting abundance and prosperity to the residence's inhabitants.
Reduce Environmental Stress: If you're focused on maintaining a relaxing, peaceful home environment, place crystals near electronics or in your bedroom. Crystals can help reduce damage from electromagnetic fields and combat fatigue caused by mental and physical ailments.
SPECIFICATIONS
Category: Gemstone Decoration
Origin: India
Genuine gemstones: Lepidolite, Amethyst, Aquatic Agate, Sodalite, Labradorite, Dumortierite, Dragon Blood Stone, Nebula Stone, Red Sandstone, Blue Sandstone, Obsidian, Mahogany Obsidian, Clear Crystal, Tianshan Blue, Llanite, Wood Grain Stone, Rhodonite, Red Web Jasper, Picasso Stone, Hydrogrossular, Auspicious Jade, Malachite, Lava Stone, Yellow Aventurine, Green Aventurine, Blue Aventurine, Dalmatian Jasper, Coral Jade, Ocean Jade, White Turquoise, Tiger Eye, Crazy Lace Agate, Red Agate, Grey Agate, White Agate, Strawberry Quartz, Spectrolite, Pink Crystal, Green Fluorite, Unakite, Red Jasper
Ornament size: 0.79"*0.59"(2*1.5cm)
Weight: Approx 3g