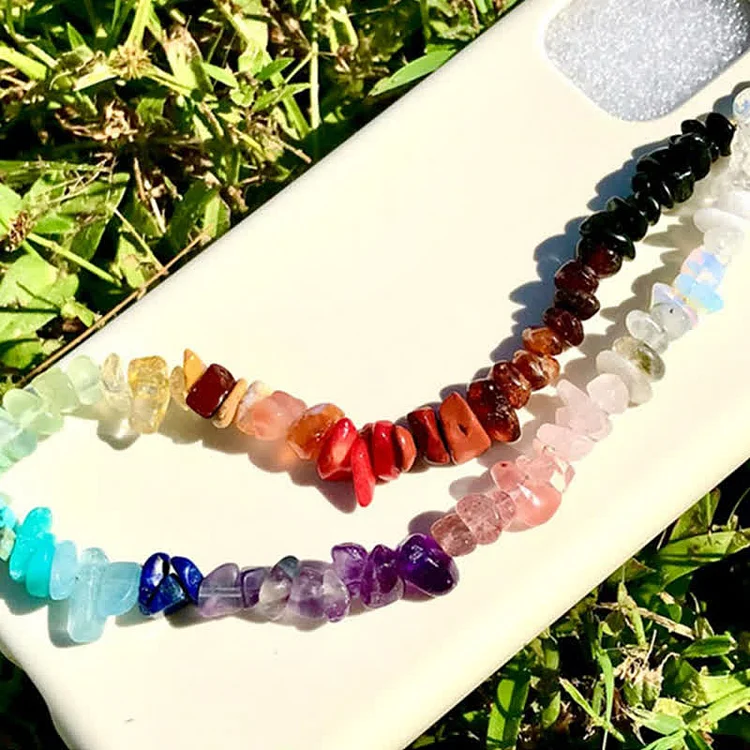 MADE OF REAL NATURAL CRYSTAL  
🤍Clear Crystal
Leap higher with the crown chakra healing of clear crystals. The crown chakra is the gateway to higher consciousness and helps us to connect our earthly energy with the universe.
🤍Opal
Opal associated with the crown chakra for spiritual wealth and higher consciousness. A savvy supportive stone, Opal always wants to bring complete balance and harmony to your being.
💗Rose Quartz
The Rose Quartz stone is strongly attached to both the heart chakra and the throat chakra. But it's not a stone that simply rests in romance. Rose Quartz speaks softly to all kinds of love; from healing communication with family to developing a deeper bond with spouses and friends, and even bringing sweeter notes of self-care into your own world.
💞Strawberry Quartz
The energies of Strawberry Quartz resonate with the heart chakra. It will unlock, activate, and stimulate this chakra so that you will enjoy a more heart-centered awareness. Strawberry Quartz will help you look at your life experiences with love, acceptance, and joy.
💜Amethyst
Natural amethyst stones are connected to the third eye and crown chakras. The purple colour to reddish-purple hues of amethyst has long been a symbol of peace, cleansing and calming energy. Amethyst is believed to have healing properties that protect the bearer against negative energies.
💙Lapis Lazuli
Lapis Lazuli is ever the stone to go one step further and it doesn't stop at your Third Eye Chakra but also takes your Throat Chakra into account. It's a Stone of Wisdom, and communication is also wrapped up in that.
💙Aquamarine
Aquamarine is known as the stone of courage and can help people overcome any anxiety related to communication. Crystal healers believe teachers should wear aquamarine to help them stay calm and not feel pressured to do tasks they've been dreading.
💙Turquoise
This beautiful blue stone simmers with all the shades of the ocean, connecting to the throat chakra so you can speak your truth, and ensuring that your inner critic stays shushed. It's healing energy is all about serenity and peace – just like stepping out into the cooling hues of calm waters on a hot day.
💚Green Aventurine
Aventurine is a heart chakra stone, its always ready to rouse those feelings of far-flung love and fantasy but in a way that feels strong and healthy, ever ready to raise you up.
💚Peridot
Peridot is a prized gemstone known for its summer spirit, its good-luck vibes, and its uncanny ability to keep you calm and feeling safe no matter what is going on around you. This gorgeous gemstone is connected to the heart chakra and is always ready to help crack your love wide open so you can share in the sublime joy of the universe.
💛Citrine
Citrine is a stone that brings about good wealth and fortune.  It's believed that citrine helps to cleanse chakras and open up the windows of intuition, creating a greater sense of alertness and a spiritual connection to one's self. At the same time, citrine is also a symbol of vitality, fresh beginnings, mental clarity and emotional well-being.
🧡Carnelian
Carnelian has a function of improving insomnia, and it has a soothing effect on female dysmenorrhea, increasing the human magnetic field arsenic blood circulation, promoting the metabolism of the new city, and regulates improved weakness.
💝Red Agate
Red Agate is a powerful gemstone that communicates with multiple chakras. The metaphysical properties of onyx make it a magical root chakra stone. This energy point is located at the base of the spine and is the foundation of our energy development.
💜Garnet
Garnets have long been known for their rich associations with creativity and love. A richly healing stone, Garnet's healing properties are plentiful. Whether shimmering red, green or gold, it's a stone that serves up self-confidence, sexual energy, and true sincerity.
BENEFITS OF WEARING CRYSTAL JEWELRY 
Support Renewing Your Vitality: Crystals can help to clear away "energetic debris" and negative energy, and also balance your subtle energies, and positively affect your physical health and mental well-being in pretty phenomenal ways. 
Balance Chakra: Healing crystal enhances your physical, emotional and mental health by affecting your chakras. Some "high vibrational" crystals also can open your awareness to higher levels of consciousness
Gorgeous Accessories: Every crystal and gemstone is a unique, beautiful and magical work of art by Nature. No matter what outfit you're wearing, there is a crystal that will add the perfect finishing touch, and they never go out of style.
It's meaningful: Jewelry made of different crystal materials can bring you different curative effects and surprises. If you are attracted to the color of a crystal, you are in desperate need of the healing and purification of this crystal.
SPECIFICATIONS 
Category: Keychain, Phone Strap
Origin: India
Genuine gemstones: Clear Crystal,Opal,Rose Quartz,Strawberry Quartz,Amethyst,Lapis Lazuli,Aquamarine,Turquoise,Green Aventurine,Peridot,Citrine,Carnelian,Red Agate,Garnet
Chain Length: 11.8" +2"(30+5cm)
Each Set weight: Approx 20g 
CARING FOR YOUR GEMSTONE JEWELRY
Don't crash hard objects or fall off & Keep it away from chemicals,cosmetics,wine,acid and alkali.
Clean gemstone jewelry and wipe it with a soft cloth to remove any dirt. Then, store your gemstone jewelry in a soft cloth pouch or jewelry case so it does not touch other pieces in your collection.
Keep it from high temperature and direct sunlight, which may cause damage to gemstones.
Remove any gemstone jewelry before engaging in any strenuous physical activity, such as exercise or sports.
Customer Reviews
Here are what our customers say.
Wow you reached the bottom
Most liked
Highest ratings
Lowest ratings
The review would not show in product details on storefront since it does not support to.