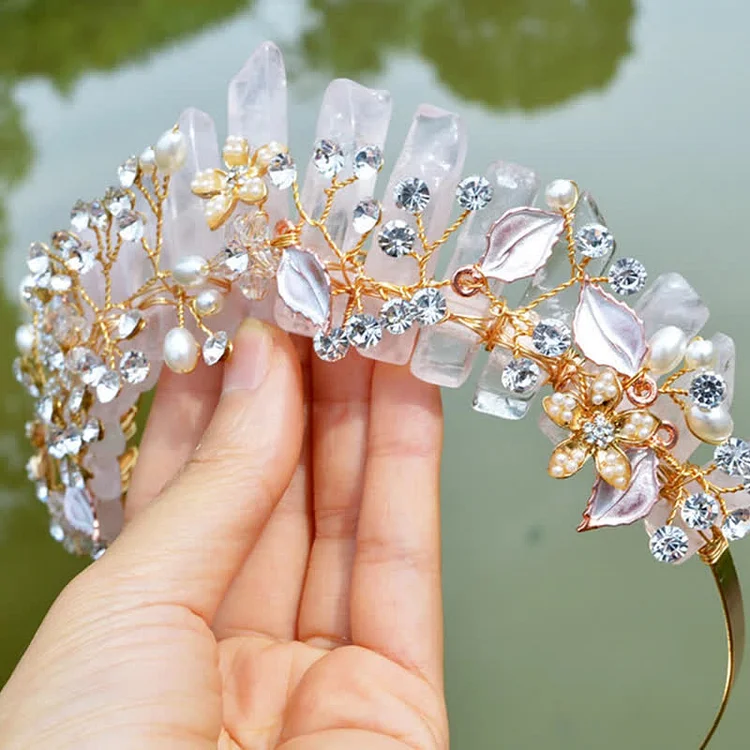 🤍Clear Crystal
Leap higher with the crown chakra healing of clear crystals. The crown chakra is the gateway to higher consciousness and helps us to connect our earthly energy with the universe. When we have a clear path of energy radiating out and communicating with the cosmos we can expand our consciousness, unite with the divine, and surrender to balance, trust, and bigger picture thinking.


💗Rose Quartz
The Rose Quartz stone is strongly attached to both the heart chakra and the throat chakra. But it's not a stone that simply rests in romance. Rose Quartz speaks softly to all kinds of love; from healing communication with family to developing a deeper bond with spouses and friends, and even bringing sweeter notes of self-care into your own world.


💛Citrine
Citrine is a stone that brings about good wealth and fortune.  It's believed that citrine helps to cleanse chakras and open up the windows of intuition, creating a greater sense of alertness and a spiritual connection to one's self. At the same time, citrine is also a symbol of vitality, fresh beginnings, mental clarity and emotional well-being.


💚Fluorite
One of the strongest qualities of the Fluorite stone is its uncanny ability to wave farewell to any ruminating negative energy. That's not to say that Fluorite is all about positive whitewashing. This stone allows you to feel all your feels, but rather than drowning in thick emotion, it helps you to hold perspective, be objective, and not become a slave to catastrophic thinking.
💜Amethyst
It is said to dispel rage, help manage fears and anger, and calm rage and anxiety.Other believed benefits of amethyst include the ability to alleviate sadness and grief and dissolving negativity. The colour of this gem is also connected to activating spiritual awareness, welcoming intuitive energies and enhancing one's psychic abilities.
BENEFITS OF WEARING CRYSTAL JEWELRY 
Support Renewing Your Vitality: Crystals can help to clear away "energetic debris" and negative energy, and also balance your subtle energies, and positively affect your physical health and mental well-being in pretty phenomenal ways. 
Balance Chakra: Healing crystal enhances your physical, emotional and mental health by affecting your chakras. Some "high vibrational" crystals also can open your awareness to higher levels of consciousness
Gorgeous Accessories: Every crystal and gemstone is a unique, beautiful and magical work of art by Nature. No matter what outfit you're wearing, there is a crystal that will add the perfect finishing touch, and they never go out of style.
It's meaningful: Jewelry made of different crystal materials can bring you different curative effects and surprises. If you are attracted to the color of a crystal, you are in desperate need of the healing and purification of this crystal.
SPECIFICATIONS 
Name: Olivenorma Luxury Natural Crystal With Pearl Crystal Crown
Category: Crystal Crown
Origin: India
Genuine gemstones: Rose Quartz,Clear Crystal,Citrine,Fluorite,Amethyst
Size: 8*6"(20*16cm)
Each Set weight: Approx 150g 
CARING FOR YOUR GEMSTONE JEWELRY
Don't crash hard objects or fall off & Keep it away from chemicals,cosmetics,wine,acid and alkali.
Clean gemstone jewelry and wipe it with a soft cloth to remove any dirt. Then, store your gemstone jewelry in a soft cloth pouch or jewelry case so it does not touch other pieces in your collection.
Keep it from high temperature and direct sunlight, which may cause damage to gemstones.
Remove any gemstone jewelry before engaging in any strenuous physical activity, such as exercise or sports.