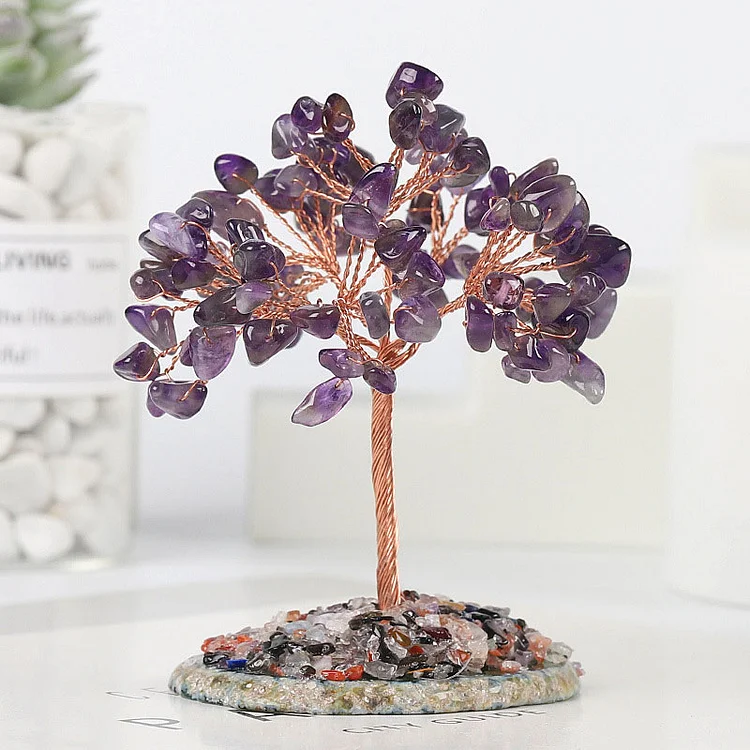 Note: All Feng Shui Trees are handmade after ordering, and the processing time is 7-10 days.
MADE OF REAL NATURAL CRYSTAL 
💜Amethyst
Natural amethyst stones are connected to the third eye and crown chakras. The purple colour to reddish-purple hues of amethyst has long been a symbol of peace, cleansing and calming energy. Amethyst is believed to have healing properties that protect the bearer against negative energies. Some believe that the stone's calming properties produce soothing dreams by making us more in tune with the divine. The stone also brings clarity and peacefulness to the waking mind, as they help the mind flow freely in both the mental and metaphysical dimensions.It is said to dispel rage, help manage fears and anger, and calm rage and anxiety.Other believed benefits of amethyst include the ability to alleviate sadness and grief and dissolving negativity. The colour of this gem is also connected to activating spiritual awareness, welcoming intuitive energies and enhancing one's psychic abilities.
WHAT IS A CRYSTAL FENG SHUI TREE?  
The tree of life has become an archetype, appearing across various cultures as a spiritual and philosophical symbol. It is symbolic of new life, growth, abundance, stability, long life, strength, togetherness, ancestry, fertility and the interconnectedness of everything in the universe.
Crystal Feng Shui Trees are considered to have healing and cleansing energies and are said to attract positive energy in abundance and are believed to give us love, happiness and protection from the evil spirits around us.
WHERE DO I PUT THE FENG SHUI TREE? 
According to feng shui, gemstones home decor will bring positive energy and prosperity when placed in the following places:
Crystal Feng Shui Tree is used in the Northwest home furnishing to increase money luck and opportunities from helpful people in your business pursuits or career
Place the Feng Shui Crystal Tree in the Southwest sector of your living rooms or bedroom to enhance your Love and Romance, luck
Those who want to improve their studies can display the Feng Shui Tree in the north east corner of the study table or study room.
To enhance your health, you should keep it in the East sector of your home or office as the East sector of your home deals with Health, the Tree works best in this sector.
If you suffer from nightmares or anxiety, place the gemstone tree by the side of your bed to help you have a good night's sleep.
your memory and attention to your research. The Northeast corner of the student's bedroom for educational luck and success luck in their studies
Positioning a crystal tree in the earth center of the house will enhance compassion and energetic harmony between family members
Keeping the chakra stone tree at home or workplace removes the imbalances in our life.
SPECIFICATIONS 
Size: Small: 10cm(L)*8cm(W)*8cm(H) / Large: 10cm(L)*8cm(W)*12cm(H) 
Hand-wrapped Copper Wire
Agate Base: balance, grounding, harmony, stability
The Agate Base may be slightly different

Customer Reviews
Here are what our customers say.
Wow you reached the bottom
Most liked
Highest ratings
Lowest ratings
The review would not show in product details on storefront since it does not support to.
2023 Newest Christmas Crystal Decor
View all