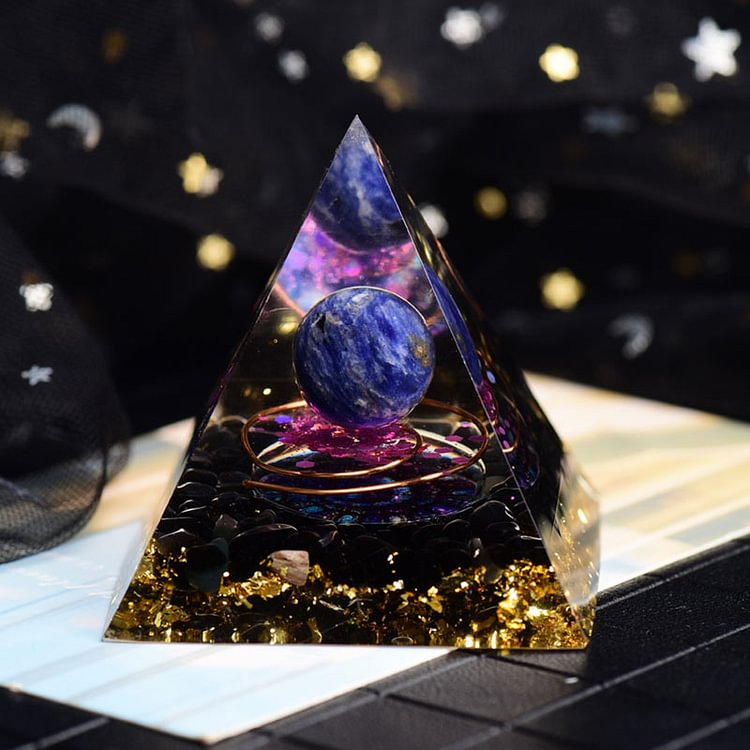 FREE Today: The Inner Peace Orgone Pyramid


$105.99 Value - Just Cover Shipping
Lapis Lazuli is a stone that represents true inner nobility. Nobility is shown through grace, forgiveness, and acts of kindness, not prideful boasts or selfishness. Let the love within you radiate outwards as a source of warmth to all those who interact with you. Steadied by the grounding properties of Obsidian - a stone closely tied with the Solar Plexus chakra - your life will be an inspiration and even in your moments of weakness, you'll have a well of strength to draw from.

"With this item, I am a beacon of kindness, love, and grace to all those around me."

The gift of safeguarding human courage, energy, self-expression: this Inner Peace Orgone Pyramid is handmade with volcanic obsidian and Lapis Lazuli crystal. Obsidian is considered to be an earth-stone that activates the root chakra and grounds you in your connection to the Earth. It is said to clear the aura of negative energy. Lapis lazuli is said to uncover and access your inner noble and Divine nature.


As a conductor of energy which was confirmed by scientific research: The Pyramid of Orgone is based on the research of the Austrian psychoanalyst "Dr. Wilhelm Reich" in the early 20th century, who introduced the term orgone. According to his research, the positive energy flow pattern of pyramid can be observed through Kirlian photography. You will see that the concentration of energy occurs around the vertical axis passing through the apex of the pyramid (1/3 of the height from its bottom). You can also see the energy radiating from the top of the pyramid in the form of a spiral.


Feel its positive effects anytime, anywhere: Placing Orgone Pyramid in any corner of your home, working space, or any space where you'd like to enjoy the flow of positive change, growth, opportunity and emotional balance. Hold in your hand while meditating, or even put in a bag or pocket when you go out. Helps ease the mental state, dispel stress and anxiety, especially useful for people living in big cities.


Only 61 pieces are available: These 100% hand-made Orgone Pyramids are in short supply-and we've consumed lots of manpower and material resources. We only ask you to help us with covering shipping and handling.
Why Are We Giving Away These For FREE?


We believe that what modern humans need most is healing and unity. We inherit ancient wisdom and methods, use environmental-friendly and sustainable crystals to design thousands of crystal products to meet various physical or spiritual needs.

We support more than 200 craftsmen around the world, and every craftsman sticks to his mission and invests it in the production of every product. Upon ordering the free

orgone pyramid

, you are welcome to purchase other products to support our store. This is really a great support for our movement.

You are helping us heal the world. 10% of all proceeds will be donated to non-profit organizations to help underserved communities in Africa and help poor children in Africa get a good education.

Only 61 FREE Orgone Pyramids Available - Exquisite Packaging
You will receive the Inner Peace Orgone Pyramid: a powerful amplifier of courage, energy, self-expression.
• Genuine gemstones: pure obsidian, Lapis Lazuli
• Size: 1.97"(L)*1.97"(W)*1.97"(H)
• Value: $105.99, claims yours FREE while stocks last
Why Choose Us:
• Great quality guarantee
• Safe payment and multiple payment methods
• Responsible shipping and customer service
• Orders will be processed within one business day

Here are what our customers say.
Wow you reached the bottom
Most liked
Highest ratings
Lowest ratings
The review would not show in product details on storefront since it does not support to.