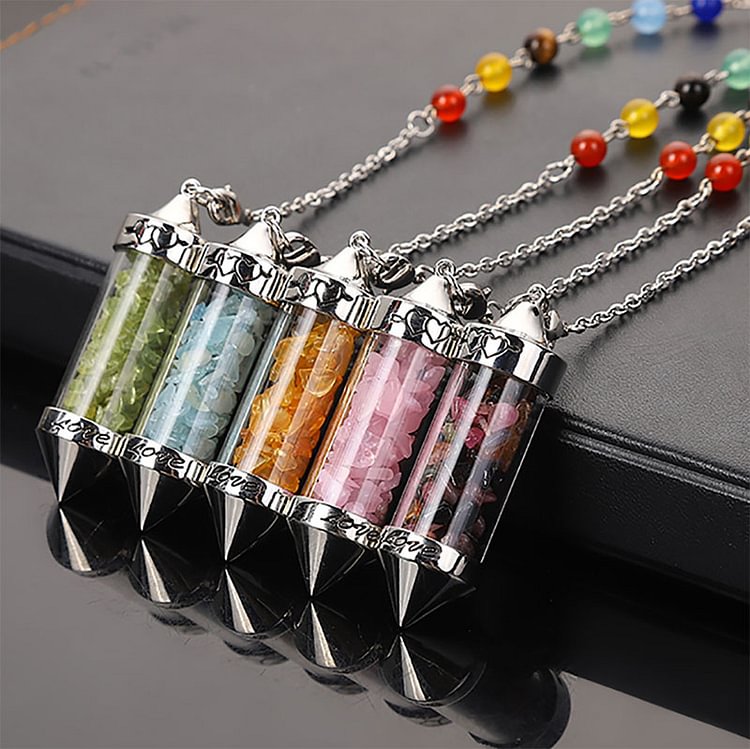 MADE OF REAL NATURAL CRYSTAL  
Amethyst
♥ Increases nobility ♥ Spiritual awareness ♥ Inner peace and healing ♥ Healing of body, mind & soul ♥ Positive transformation ♥ Meditation ♥ Balance ♥ Relieves stress ♥ Communication.
A gorgeous purple gemstone, the amethyst is said to bring strength, courage, and peace. These benefits can help promote healing. It's a soothing stone with peaceful properties, with a quiet energy that should also help release creativity. Since the stone has such tranquil qualities, it's a great gift for anyone suffering from anxiety, mood disorders, and addictions. It is said to promote spiritual and physical health.
Red Jasper
♥ Protection♥ Wisdom♥ Courage♥ Endurance♥ Vitality
Red Jasper has been revered as a sacred and powerful protective stone by ancient nations and civilizations all over the world, whether in the material realm or the spiritual realm. They are called "bringers of rain" and nurturers, healers of spirit and stones of courage and wisdom
Citrine
♥ Happiness ♥ Prosperity ♥ Generosity ♥ Creativity ♥ Pleasure ♥ Protection ♥ Strength ♥ Alignment ♥ Confidence ♥ Stability ♥ Moderation ♥ Energy ♥ Comfort ♥ Success ♥ Truth ♥ Goodness ♥ Warmth ♥ Digestion ♥ Assimilation ♥ Enjoyment of life ♥ Spiritual growth.
Citrine energises every level of life. It cleanses the chakras and opens the intuition. Citrine is said to attract wealth, prosperity and success. It imparts joy, wonder, delight and enthusiasm. Raises self-esteem and self-confidence. Stimulates the brain, strengthening the intellect. Citrine promotes motivation, activates creativity and encourages self-expression. Enhances concentration and revitalises the mind. It is believed to release negative traits, depression, fears and phobias. Emotionally balancing.
Aquamarine
♥ Wisdom ♥ Sincerity ♥ Calm ♥ Peace
Crystal experts believe that the Aquamarine enables us to gain the wisdom deep in our hearts. This in turn allows us to stay true to our deepest values, express our feelings openly and communicate with others from the heart.
Rose Quartz
♥ Unconditional love ♥ Self-love ♥ Mother love ♥ Caring ♥ Kindness ♥ Friendship ♥ Romantic love ♥ Platonic love.
A popular gemstone, the pink-hued rose quartz is said to help heal heartaches. Closely associated with love, the rose quartz seems to have a soothing, gentle energy that can calm an agitated wearer. A gift of a rose quartz can be a wonderful message to someone going though a divorce, breakup, family estrangement, or any struggle with loneliness and lack of inner peace.
Garnet
♥ Purification ♥ Protection ♥ Calm ♥ Stability ♥ Passion

Garnet provides protection and calming and stable vitality during use. Garnet can purify and reactivate the chakras. It can revitalize, purify and balance energy, and bring tranquility or passion appropriately.
Peridot
♥ Healing ♥ Renewal ♥ Purification ♥ Growth ♥ Relaxation ♥ Comfort ♥ Intuition.
Peridot is said to help activate and harmonise the Solar Plexus and Heart chakras, creating an integration of Love and Will. This stone can assist you in having the courage to act out your heart's desires, to be generous to others, even as you pursue your individual destiny.
Clear Crystal(White Crystal)

♥ Protection ♥ Healing ♥ Clarity ♥ Meditation

Wearing, carrying or meditating on clear crystals will open your mind to higher and stronger guidance. They will improve your concentration and increase your memory by filtering out distractions. The hypnotic qualities of clear crystal are also good for sleep and rest.
HOW TO USE A PENDULUM FOR DIVINATION?
Cleanse your crystal: upon receiving your pendant, wash it with water, or leave it outside under a full moon. Do this periodically.

Visualize your question in your mind's eye: the question can be about anything, but it should be a clear 'yes' or 'no'.

Determine what 'yes' and 'no' look like: decide the corresponding direction or pattern your pendulum should swing in, in order to reveal your answer. There is no right or wrong here, there is only your personal agreement with your crystal.

Gently swing your divination necklace to find your answer: your soul already has your answer, so just let your mind and body guide you intuitively.
SPECIFICATIONS
Category:

Pendulum

Origin: India
Genuine gemstones: Obsidian, Opal, White Agate, Blue Turquoise, Turquoise, Labradorite, Red Coral, Amethyst, Tiger Eye, Green Aventurine, Clear Crystal(White Crystal), Pink Crystal, Black Onyx
Pendant Size:2.16-2.36''
Chain Length:4.72''
CARING FOR YOUR GEMSTONE JEWELRY 
Don't crash hard objects or fall off & Keep it away from chemicals,cosmetics,wine,acid and alkali.
Clean gemstone jewelry and wipe it with a soft cloth to remove any dirt. Then, store your gemstone jewelry in a soft cloth pouch or jewelry case so it does not touch other pieces in your collection.
Keep it from high temperature and direct sunlight, which may cause damage to gemstones.
Remove any gemstone jewelry before engaging in any strenuous physical activity, such as exercise or sports.
Here are what our customers say.
Most liked
Highest ratings
Lowest ratings
Wow you reached the bottom
The review would not show in product details on storefront since it does not support to.
HAMSA-Good Fortune And Protection
View all