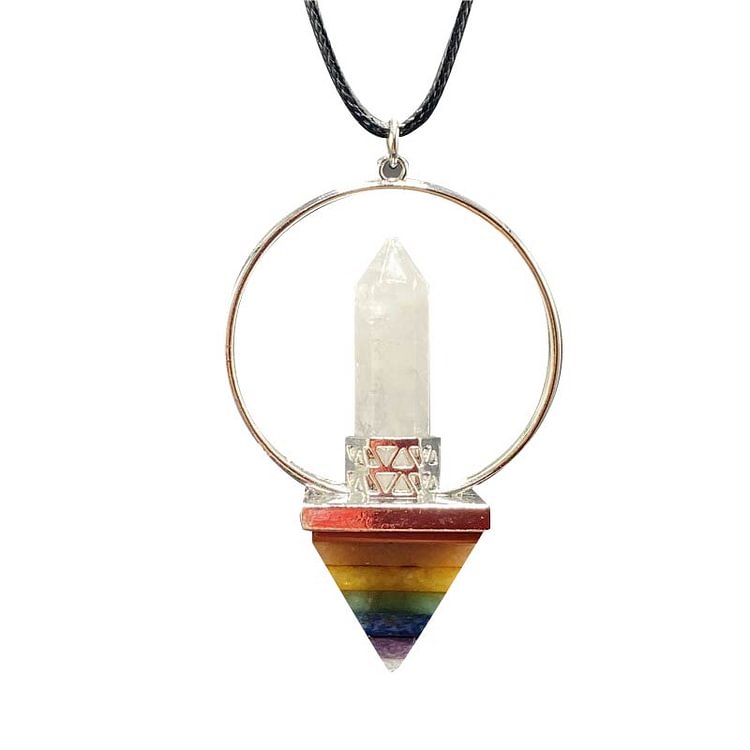 Why Is It Important To Balance Chakras?
Unbalanced chakras are caused by everyday stress, life problems, losses, lower frequencies from electronic devices that disrupt our energy flow.
Balancing your chakras can help restore the energy flow in your system, creating harmony and reducing stress. 
This is why we spent months perfecting our Chakra Pendant to assist as many people as possible get rid of negative energy, bring harmony to the body, mind, and soul. 
Olivenorma's Chakra Pendant emit intense, high-frequency vibrations to balance your chakras in the morning to promote a full of life feeling, positive and hopeful. Balance your chakras at night to help calm you down, ease your mind and promote deeper sleep.
They also provide great protection against electromagnetic pollution (EMF) from electronic devices such as your WiFi router and cellphone.
What is Orgone Energy and how can it change my life?
Orgone energy is similar to what the ancients have called prana, chi, or universal energy. Orgone energy is present in living things and flows throughout the universe. You can harness this vital life force energy and amplify it so you heal yourself from within, manifest your intentions and desires. 
Some of the benefits of Orgone energy:
✓ Get rid of negative energy around you
✓ Helps relieve stress and anxiety
✓ Protection against EMF (5G, WiFi, Cell towers, etc)
✓ Helps with spiritual and psychological growth
✓ Supports restful sleep 
✓ Strengthen intentions and visualizations
Each one of our pendant is carefully handcrafted with genuine chakra healing stones locally and ethically sourced by small artisans in Brazil. The layers of metal and eco-resin with carefully selected crystals aid in a variety of physical, emotional, and spiritual imbalances resulting from our current environment.
All my products are individually made by hand with high quality crystals. I hope these bring you peace and positive energy💕
Amethyst
♥ Increases nobility ♥ Spiritual awareness ♥ Inner peace and healing ♥ Healing of body, mind & soul ♥ Positive transformation ♥ Meditation ♥ Balance ♥ Relieves stress ♥ Communication.
A gorgeous purple gemstone, the amethyst is said to bring strength, courage, and peace. These benefits can help promote healing. It's a soothing stone with peaceful properties, with a quiet energy that should also help release creativity. Since the stone has such tranquil qualities, it's a great gift for anyone suffering from anxiety, mood disorders, and addictions. It is said to promote spiritual and physical health.
Clear Quartz (or White Quartz)
♥ Harmony ♥ Energy ♥ Healing ♥ Clarity ♥ Calmness.
Clear Quartz is known as the "master healer" and is believed to amplify energy and thought, as well as the effect of other crystals. It is believed to absorb, store, release and regulate energy. Clear Quartz draws off negative energy of all kinds, and is considered helpful in neutralising background radiation, including electromagnetic smog or petrochemical emanations.
Rose Quartz
♥ Unconditional love ♥ Self-love ♥ Mother love ♥ Caring ♥ Kindness ♥ Friendship ♥ Romantic love ♥ Platonic love.
A popular gemstone, the pink-hued rose quartz is said to help heal heartaches. Closely associated with love, the rose quartz seems to have a soothing, gentle energy that can calm an agitated wearer. A gift of a rose quartz can be a wonderful message to someone going though a divorce, breakup, family estrangement, or any struggle with loneliness and lack of inner peace.
Each pendant taes dozens of hours to be perfectly handcrafted, cleansed with sage, and charged in the moonlight or sun. 
Specifications
Genuine gemstones: Amethyst, Clear Quartz (or White Quartz), Rose Quartz
Size: Pendant: 12mm *12mm 
Eco-friendly resin
Charged with singing bowl
Precautions
This product only includes pendants, no rope
Here are what our customers say.
Wow you reached the bottom
Most liked
Highest ratings
Lowest ratings
The review would not show in product details on storefront since it does not support to.