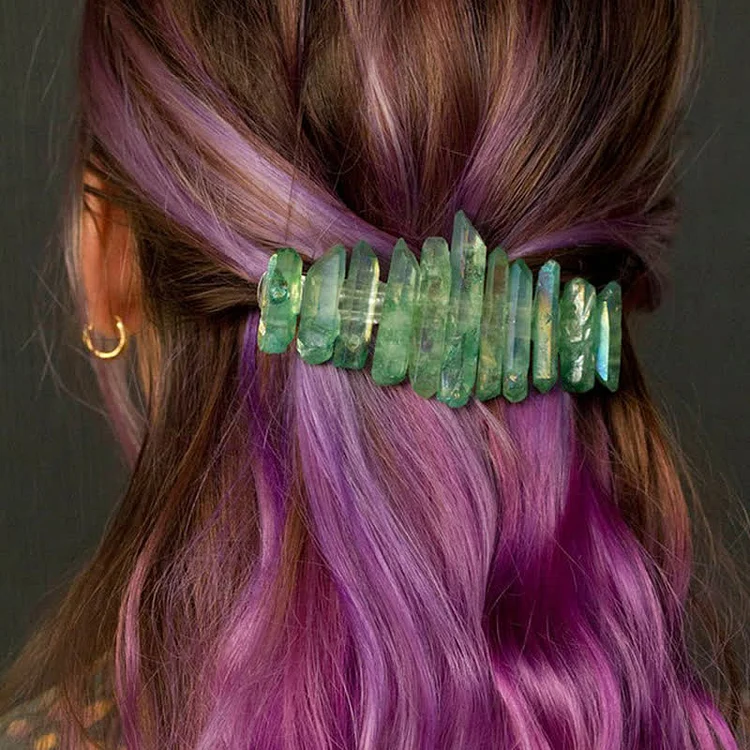 💚Peridot
Peridot is a prized gemstone known for its summer spirit, its good-luck vibes, and its uncanny ability to keep you calm and feeling safe in all situations. This gorgeous gemstone is always ready to help crack your love wide open and help you get rid of self-centered behavior such as jealousy, resentment, etc. At the same time, peridot is believed as a great work companion because it provides you with the focus and energy you need to persevere.
💞Pink Crystal
Pink crystal has such a loving, nurturing energy that they instantly soothe our hearts and settle our nervous systems right down. It works to connect us to feelings of love, nurturing soft emotion, and shades of calm. From sunsets over the desert to puffy pale clouds and iridescent pink seas, pink crystals come with all the connotations of sweetness, hope, and light. Radiating across the body, mind, and soul, pink gems are pure and perfect love.
🤍Clear Crystal
Clear Crystal is here for mental clarity, for encouraging flexibility of the body and soul, also for encouraging you to be pure and true. Invoking inner wisdom, cleansing the aura, and opening the crown, the Clear Crystal can lift you higher to lofty places.
🤎Labradorite
The Stone of Transformation and the Stone of Courage, labradorite clears out all that junk, revitalizing the spirit with a bright burst of energy and keeps you ticking rather than being weighed down by events of the world and personal responsibilities.
BENEFITS OF WEARING CRYSTAL JEWELRY
Support Renewing Your Vitality: Crystals can help to clear away "energetic debris" and negative energy, and also balance your subtle energies, and positively affect your physical health and mental well-being in pretty phenomenal ways.
Balance Chakra: Healing crystal enhances your physical, emotional and mental health by affecting your chakras. Some "high vibrational" crystals also can open your awareness to higher levels of consciousness
Gorgeous Accessories: Every crystal and gemstone is a unique, beautiful and magical work of art by Nature. No matter what outfit you're wearing, there is a crystal that will add the perfect finishing touch, and they never go out of style.
It's meaningful: Jewelry made of different crystal materials can bring you different curative effects and surprises. If you are attracted to the color of a crystal, you are in desperate need of the healing and purification of this crystal.
SPECIFICATIONS
Category: Hairpin
Origin: India
Genuine gemstones: Peridot, Carnelian, Pink Crystal, Black Tourmaline, Clear Crystal, Fluorite, Blue Quartz, Smoky Quartz, Labradorite
Length: 3.15"(8cm)
Each Set weight: Approx 40g
CARING FOR YOUR GEMSTONE JEWELRY
Don't crash hard objects or fall off & Keep it away from chemicals,cosmetics,wine,acid and alkali.
Clean gemstone jewelry and wipe it with a soft cloth to remove any dirt. Then, store your gemstone jewelry in a soft cloth pouch or jewelry case so it does not touch other pieces in your collection.
Keep it from high temperature and direct sunlight, which may cause damage to gemstones.
Remove any gemstone jewelry before engaging in any strenuous physical activity, such as exercise or sports.