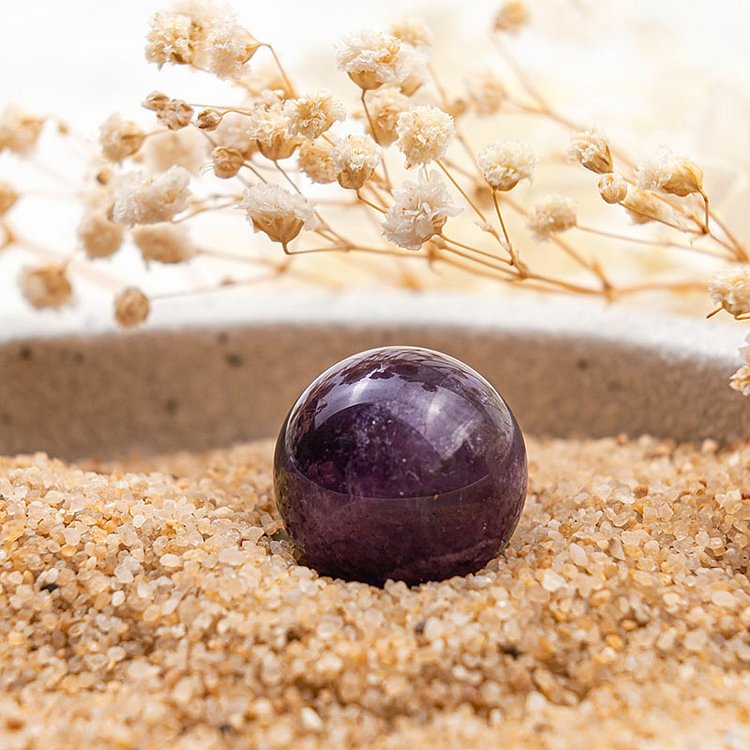 🌸To tap into the crown chakra and all the light that lies beyond, first the body and the soul must be soothed. This is where the Amethyst Sphere shines her sacred light. Amethyst is known for its deep healing, sweet inner peace, and noble intentions – when channeled into a sphere shape, you have a heavenly tool that can be used for vision quests, meditation, or as a magical remedy for instant stress relief.
"With this sphere, I sit in quiet contemplation, trusting that the answers will come when needed."
MADE OF REAL NATURAL CRYSTAL
💜Amethyst 
Natural amethyst stones are connected to the third eye and crown chakras. The purple colour to reddish-purple hues of amethyst has long been a symbol of peace, cleansing and calming energy. Amethyst is believed to have healing properties that protect the bearer against negative energies. Some believe that the stone's calming properties produce soothing dreams by making us more in tune with the divine. The stone also brings clarity and peacefulness to the waking mind, as they help the mind flow freely in both the mental and metaphysical dimensions.
It is said to dispel rage, help manage fears and anger, and calm rage and anxiety.
Other believed benefits of amethyst include the ability to alleviate sadness and grief and dissolving negativity. The colour of this gem is also connected to activating spiritual awareness, welcoming intuitive energies and enhancing one's psychic abilities.
CRYSTAL SPHERE BENEFITS
A crystal that is sculptured and polished as a sphere can be a strong energy conductor. Additionally, the sphere is our Earth's perfect form and shape, this form allows the crystal to radiate energy in all directions simultaneously. It is so powerful that it can be used in so many things, such as healing, the attraction of positive energy, as well as opening the 3rd chakra.
Crystal Spheres Inspire Creativity and Bring Prosperity. You can place a crystal sphere on your desk, it will enhance your intuition, keep you focused, help foster creativity, and create a better environment for the workplace.
Create Feng Shui Balance. Placing a crystal sphere in the center of your home brings energy and brightness to the area, bringing freshness to every room and making you feel more alive, alive and harmonious.
Crystal spheres For Meditation & Yoga. Meditation with a crystal sphere can effectively bring you into a deep meditative state. These spheres hold a strong frequency that gives the crystals benefits of chakra healing and chakra opening during meditation and yoga practice.
Provides Pure, Stable Positive Energy. Consider the crystal sphere as a space cleaner, as the crystal sphere emits a grounding frequency that energizes and purifies the room while also giving people a calmer, more focused energy.
Used for Divination. The way to read the crystal sphere is similar to the tarot cards, imagine your question in your mind, put your hands on the sphere, focus on staring at the crystal sphere and keep an open mind, the answer to the question will come closer and closer to you through the energy of the crystal .
SPECIFICATIONS
Category: Crystal Sphere
Origin: India
Genuine gemstones: Amethyst
Sphere diameter: 0.78''(2cm) - 0.98''(2.5cm)
Set of 3 Amethyst Crystal Sphere
Here are what our customers say.
Wow you reached the bottom
Most liked
Highest ratings
Lowest ratings
The review would not show in product details on storefront since it does not support to.