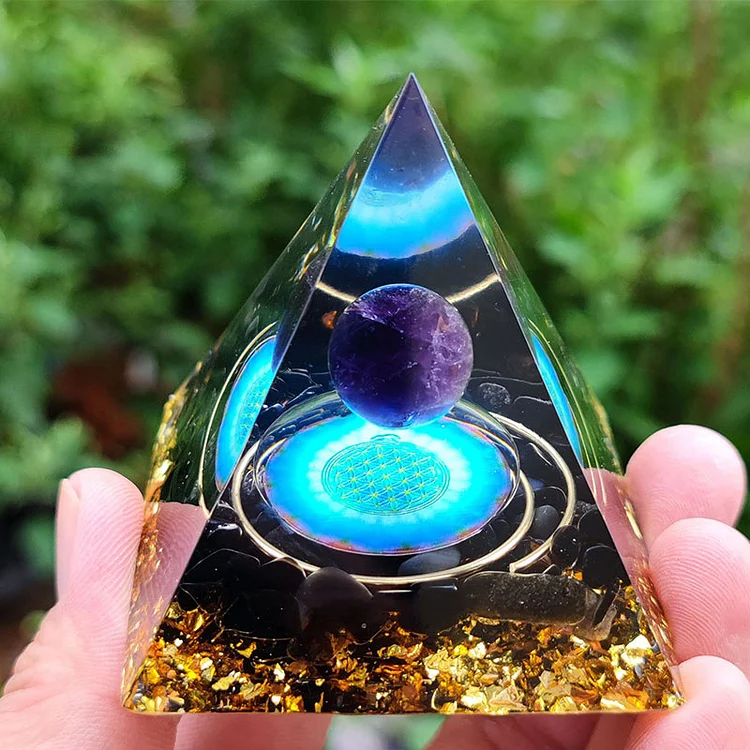 Experience the harmonious blend of spiritual energy and grounding protection with the Amethyst Crystal Sphere and Obsidian Orgone Pyramid. The soothing Amethyst enhances intuition and spiritual growth, while the powerful Obsidian shields against negativity. This exquisite combination creates a balanced energy flow, promoting clarity, healing, and a sense of inner peace. Elevate your space with this stunning crystal duo.

MADE OF REAL NATURAL CRYSTAL 
💜Amethyst
Amethyst is a powerful and protective stone. It guards against psychic attack, transmuting the energy into love and protecting the wearer from all types of harm, including geopathic or electromagnetic stress and ill wishes from others. Amethyst is a natural tranquillizer, it relieves stress and strain, soothes irritability, balances mood swings, dispels anger, rage, fear and anxiety. Alleviates sadness and grief, and dissolves negativity. Amethyst activates spiritual awareness, opens intuition and enhances psychic abilities. It has strong healing and cleansing powers. Amethyst encourages sobriety, having a sobering effect on overindulgence of alcohol, drugs or other addictions. It calms and stimulates the mind, helping you become more focused, enhancing memory and improving motivation. Amethyst assists in remembering and understanding dreams. It relieves insomnia. Encourages selflessness and spiritual wisdom. The high spiritual vibration of amethyst makes it an extremely powerful stone which can help with the spiritual awareness and awakening of the soul, infinity, and Goddess. With the aid of this crystal, the bearer will realize that he or she can do more than what the physical body can offer. The amethyst can lead you in finding your angels and spirit guides. Known as a natural tranquilizer, it can obstruct negative energies from one's surroundings. It also enhances consciousness and meditation. As a spiritual stone, it promotes the love of the divine while encouraging selflessness and spiritual wisdom. It can also help open one's intuition and may help discover psychic gifts. This can stimulate the third eye chakra, which is the center of foresight and intuition. During sleep, it brings intuitive dreams that may assist in out of body experiences. Overall, amethyst can create a balance between the body's emotional, mental, and physical aspects. Aside from the third eye chakra, it can also stimulate the throat and crown chakras.
🖤Obsidian
Obsidian is a powerful stone that helps identify your dark side so that its healing properties can clear away from your psyche. It shines a light on the negativity and clears it away, helping us to choose the path leading towards light and love.
A pyramid functions as a transmitter for directing intention. By charging the pyramid up with a thought-form or intention, it will be manifested much faster. The geometric shape of a pyramid symbolizes harmony, divine structure, and order, the consciousness of unity and oneness, unconditional love, to which every single soul is aiming at.
Vibrationally strengthened by copper and resin, this unique Cleansing Black Obsidian Orgonite Pyramid can bring protective, healing and harmonizing energies to your home, your office, or your sacred space.
You can also use it for your meditations, or any other harmonizing ritual.
As uplifting as they are beautiful, orgone pyramids combine precious gems, natural materials, and sacred geometry to cleanse the energy around you.
Each pyramid carries and amplifies the unique vibrations of the materials it's made with.
Orgonite Pyramids are beautiful and are believed to be EMF busters. They are believed to have the intense ability to bring a person into healing harmony and positive balance in life.
The benefits of the orgonite is transmitted all over its vicinity. This way, you make your workplace friendlier and an entirely happy place.
Orgonite pyramids are beautiful pieces with amazing healing properties.
HOW TO USE ORGONR PYRAMIDS?
Meditate with an orgonite pyramid in your hand, direct your attention toward it-feel and sense the energy emanating from it. 
Put them near your TV, computer or any electric devices. Orgone energy minimizes EMF radiation from electronic devices, which has the potential to cause cancer and depression.
Carry a piece of orgone around you during the day. Place some pieces at your work desk or office. The benefits of the orgone will be transmitted to all within its vicinity. And make your workplace a friendlier and happier place.
Place them around your community and any other places you think need healing. Wherever you place these orgone pyramid, they keep the air and life force in the home clean and positive. 
Place an orgone pyramid or necklace around your dog's leash. This way, they are being protected and helped at all times too.
Cleanse any crystals with the orgone pyramid, just as you would harness the energy of the Sun or water to cleanse your crystals.
Take a bath with an orgone pyramid placed in the water for relaxing, soothing, detoxifying and revitalizing effects.
Place a piece of orgone pyramid underneath your pillow, can effectively relieve insomnia, and your sleep will be restful and energizing.

Place a piece of orgone pyramidin your fridge. It will make your food last longer and taste better by charging it with POE.
SPECIFICATIONS 
Genuine gemstones: Amethyst, Obsidian
Origin: India
Packaging: Olivenorma velvet gift bag, gift box
Size: 1.97''*1.97''(5cm X 5cm) / 2.36''*2.36''(6cm X 6cm)  / 3.14''*3.14(8cm X 8cm) / 3.93''*3.93''(10cm X 10cm)
Gold metal shavings
Eco-friendly resin
Customer Reviews
Here are what our customers say.
Wow you reached the bottom
Most liked
Highest ratings
Lowest ratings