The Ultimate Guide to Choosing the Perfect Birthstone Ring
Apr 10, 2023 by olivenorma
Introduction
Picking the perfect
birthstone ring
for yourself or someone dear to you is both a significant and personal endeavor.
Birthstone rings
not only honor a person's birth month but also act as enduring reminders of life's treasured moments. Whether you're shopping for a loved one or yourself, this comprehensive guide will provide essential tips to help you discover the ideal
birthstone ring
.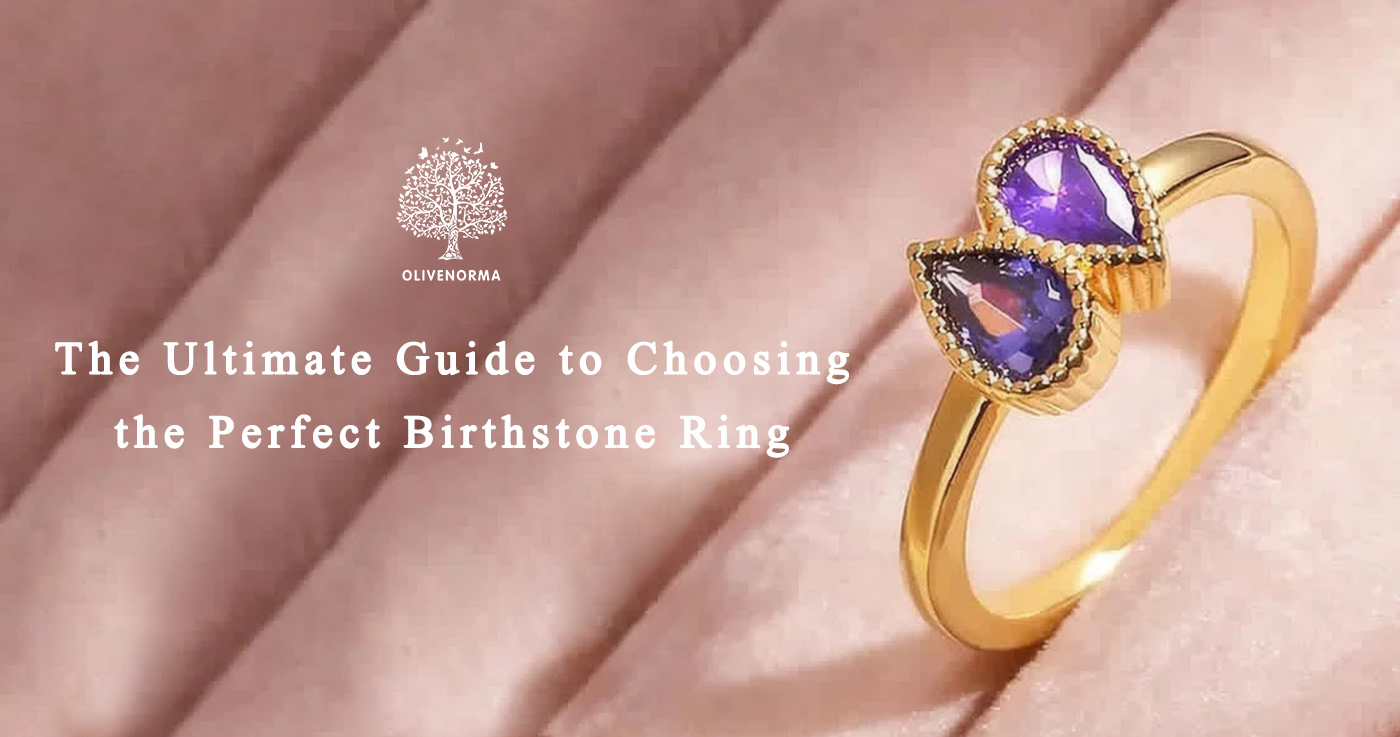 Determining the Appropriate Birthstone Month
The first step in choosing the right birthstone ring is identifying the relevant birthstone month. Each month is associated with a distinct birthstone and color. For example, January is marked by Garnet, a stone with deep red or pink hues. February is characterized by Amethyst, a light purple gemstone. March features Aquamarine, which typically appears in light blue shades. Being aware of the correct birthstone month allows you to select a ring that genuinely reflects the individual's identity.
Discovering Diverse Ring Styles
Once you've identified the appropriate birthstone month, delve into the various styles and designs of birthstone rings on the market. Popular choices encompass solitaire rings, halo rings, cluster rings, three-stone rings, and eternity bands. Each style showcases unique design elements that set it apart. Contemplate which ring style would best align with the individual's personality and style preferences.
Opting for the Perfect Metal
The choice of metal is essential when selecting a birthstone ring. Common metals used in these rings include gold, silver, platinum, and titanium, each with its own set of unique properties and benefits:
Gold: A classic choice, gold radiates opulence and is available in different shades, such as yellow, white, and rose gold.

Silver: A budget-friendly alternative, silver is versatile and commonly used for casual jewelry.

Platinum: Renowned for its durability and hypoallergenic qualities, platinum is ideal for long-lasting wear and those with sensitive skin.

Titanium: A lightweight yet robust option, titanium offers resistance to scratches and fading.
Choosing the Ideal Gemstone
Next, concentrate on finding the perfect stone for your birthstone ring. Options vary from diamonds and rubies to sapphires, emeralds, and beyond. Assess the stone's color and clarity to ensure it corresponds with the birthstone month's designated color. If purchasing a ring for someone else, factor in their birthdate and favorite colors when selecting the gemstone.
Setting a Budget
Finally, establish a budget for your birthstone ring. The prices for these rings span a wide range, making it crucial to decide how much you're willing to invest. Consider the ring's overall quality, craftsmanship, and the expense of stone and metal. By setting a budget, you can refine your choices and uncover the perfect ring that aligns with your financial limits.
Conclusion
The journey of selecting a
birthstone ring
is both gratifying and significant. Keep these valuable tips in mind, and you'll be well-prepared to discover the ideal ring for yourself or someone close to you. Through diligent research and mindful consideration, you can confidently select a
birthstone ring
that will be treasured for a lifetime.